Flat Panel LCD Monitors offer 400-700:1 contrast ratios.
Press Release Summary: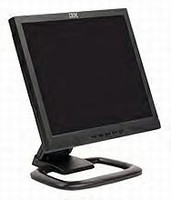 Available with viewable image sizes from 15-20.1 in., xSeries® server and workstation TFT and CRT monitors feature typ brightness of 250 or 300 cd/m2 and 1024 x 768 to 1600 x 1200 native resolution. Design incorporates tilt stand, analog and DVI-D inputs, internal power, and on-screen display menus that provide direct access for automatic image setup and brightness. Horizontal and vertical viewing angles range from 130° to 178° and 100° to 178°, respectively.
---
Original Press Release:

New TFT Flat Panel Displays and CRT Monitors Enhance Usability of IBM xSeries Systems



xSeries server and workstation TFT and CRT monitors feature:

Viewable image size: 381 to 511 mm (15 to 20.1-in)
Brightness: 250 cd/m2 and 300 cd/m2 (typical)
Contrast ratio: 400:1, up to 700:1 (typical)
Viewing angle:
Horizontal: 130, up to 178 degrees
Vertical: 100, up to 178 degrees
Response time: 8 to 16 ms
Display native resolution of from 1024 x 768 on 15-in to 1600 x 1200 on 20.1-in monitors (automatically scales lower resolution to fill the screen)
Tilt stand
Direct access for automatic image setup and brightness
Analog input (15-pin D)
DVI-D input (for 17-, 19-, and 20-inch TFT models)
Internal power
100-mm Video Electronic Standards Association (VESA) standard for mounting (T117, T119 and T120)
Three-year limited warranty

Overview
xSeries® server and workstation TFT LCD monitors offer the benefits of flat-panel monitors at an affordable price. The integrated IBM design enhances usability and complements the design of xSeries systems.

These monitors are best suited for:
Customer service
Reception areas
Server console monitor
General business applications
High-performance graphics applications
CAD/CAM applications

Features
Viewable image size from 381 to 511 mm (15 to 20.1-in):
381-mm (15-in) display with 1024 x 768 native resolution
432- and 483-mm (17- and 19-in) displays with 1280 x 1024 native resolution
511-mm (20.1-in) display with 1600 x 1200 native resolution
IBM enhanced design:
Tilt stand
Direct access for automatic image setup and brightness
Quick and easy monitor adjustments using on-screen display (OSD) menus
Matching design to IBM xSeries systems
Easy cable management
Scaling for viewing of full-screen images of resolutions less than 1024 x 768
Internal power
Lockable digital controls
T117, T119, and T120 monitors with detachable base for mounting on wall or arm with optional mounting equipment

Benefits
Improved use of space compared to CRT monitors with a similar screen size
Reduced energy use and heat generation to help lower cooling and power costs compared to CRT monitors with a similar screen size
Compatible with xSeries system units
Quick and easy monitor setup
T117, T119, and T120 wall or desk-mounting using third-party accessories meeting the VESA Flat Panel Monitor Physical Mounting Interface Standard (not included)

Planned availability dates

December 15, 2005: C117 monitor (7NU) and T115 TFT monitor
January 6, 2006: T117 and T119 TFT monitor
January 27, 2006: T120 TFT monitor

More from Machinery & Machining Tools