Flat Panel Downlight exceeds 70 lm/W in low-profile package.
Press Release Summary: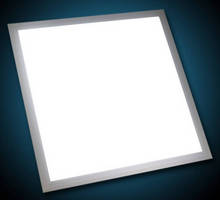 Edge-lit, square, LED-based, flat panel downlight assembly, offered as SSL solution for ceiling lights, delivers efficiencies greater than 70 lm/W using standard 2 x 2 ft troffer packaging with CRI of greater than 80. Using 100 LEDs with brightness levels up to 130 lm, UL-certified product produces up to 3,250 lm at color temperature of 4000K while consuming 46 W of power. LEDs are spaced along only 2 edges of light guide plate to maintain thin profile.
---
Original Press Release:

New GLT UL-Certified Flat Panel Downlight Exceeds 70 Lumens per Watt in Standard Edge-Illuminated, Low-Profile, 2X2 Foot Troffer Package



Brecksville, OH - Global Lighting Technologies (GLT) Inc. has improved the performance of their standard 2x2 ft.-square edge-lit LED-based flat panel downlight assembly by developing a brighter and more efficient SSL solution for ceiling lights that delivers efficiencies greater than 70 lumens per watt using standard GLT 2x2-ft. troffer packaging, with a CRI of > 80.

"This represents a significant advancement in performance over our standard OL2 Series flat panel ceiling light assembly, thanks to the use of higher efficiency LEDs and GLT optics," said Brett Shriver, Director of Sales & Marketing. "It is UL-certified for sale in the U.S. and Canada."

The LEDs used in the new panel have increased in brightness from approximately 100 lumens up to 130 lumens. Using the same number of LEDs (100) as in the previous iteration of its 2x2 ft.-square UL-certified flat panel downlight, GLT is able to offer an increase in brightness of up to 3,250 lumens at a color temperature of 4,000 K, compared to 2,450 lumens at the same color temperature for the standard product at the same level of power consumption (46 W), with no increase in price.

The 70 lumen-per-watt target was achievable in the past only through direct illumination by the LEDs using a thicker light box approach, or by densely packing the LEDs through all four edges of the light guide plate (LGP). GLT, however, has reached this milestone while still maintaining the thin profile and with LEDs spaced along only two edges of the LGP. This allows for a lower cost ceiling light than was available in the past at these performance levels.

Pricing for the new 70 lm/W flat panel downlight assemblies begins at $122.79 each in volumes of 100 pieces. For additional pricing information, specifications and test data, contact GLT.

PHOTO: GLT's new flat panel downlight offers increased brightness in a standard 2x2-ft. troffer package at no additional cost.

E-mail: info@glthome.com Web: www.glthome.com.

More from Electrical Equipment & Systems