Flat Lifter handles material horizontally.
Press Release Summary: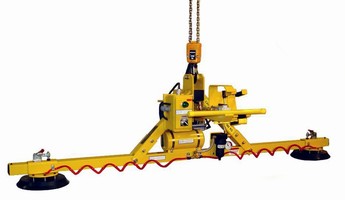 Flex Lifter offers customizable options including primary power source, capacity, and frame dimensions. AC and compressed air power options install in existing fabrication facilities and DC power system suit forklift or job site use. Pad frame's main beam is bolted to lift bar to accommodate range of load types and dimensions, and pad mounts are movable. Lifter loads and unloads trucks, water jets, CNC routers, and plasma tables.
---
Original Press Release:

A Flexible Flat Lifter from Wood's Powr-Grip



Wood's Powr-Grip introduces the Flex Lifter. As the name implies, this flat lifter is flexible in design and use. It can easily be customized for an array of materials handling applications. Power source, capacity, and frame dimensions are just a few of the specifications that can be tailored to each user's needs.

The Flex Lifter can be equipped with any of the three primary power sources-AC, DC, or compressed air. AC and compressed air power systems make the Flex Lifter easy to install in existing fabrication facilities, whereas DC power makes it suitable for forklift or job site use. Because the pad frame's main beam is bolted to the lift bar, it can easily be modified to accommodate a wide range of load types and dimensions. Movable pad mounts, which can be repositioned at various locations on the pad frame, add to versatility in the Flex Lifter's applications.

Perfect for lifting, loading and unloading materials in the horizontal orientation, the Flex Lifter can load and unload trucks, water jets, CNC routers, laser cutters or plasma tables, and is easily adapted for many other applications. It is well-suited for narrow materials of almost any thickness and wider materials that do not need a lot of support. Aluminum, fiberglass, steel, composite panels, plywood, particle board, OSB, marble and granite are among the many products and materials to which the Flex Lifter can be attached.

Wood's Powr-Grip President Bryan Wood explains, "We try to get input from the actual users that we can incorporate into the design of our products. With the Flex Lifter, we wanted to develop a flat lifter that was easily adaptable for any number of uses. We think that the consumer will really appreciate the customization aspect."

Wood's Powr-Grip offers a long list of optional features that can further customize the Flex Lifter to each user's specific requirements. Additional information and a list of distributors can be found on the Wood's Powr-Grip website: www.powrgrip.com.

Wood's Powr-Grip Co., Inc.
P.O. Box 368
908 West Main
Laurel
MT
59044
United States
800-548-7341
www.powrgrip.com

Contact Name: Joe Landsverk
Title: Marketing Director
E-mail: joel@powrgrip.com

More from Software