Flashlights deliver up to 40,000 candlepower.
Press Release Summary: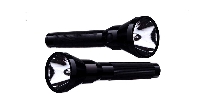 Stinger HP(TM) and XT HP(TM) flashlights have xenon-halogen gas filled bi-pin bulbs, nickel cadmium rechargeable batteries that provide power for up to one continuous hour between charges, virtually indestructible machined aluminum cases, and unbreakable polycarbonate lenses. Stinger HP weighs 12.2 oz and measures 8.25 in. long, while Stinger XT HP weighs 14.6 oz and is 8.625 in. long. Both have ac/dc recharging capabilities and two charger holders.
---
Original Press Release:
Streamlight(R) Introduces Stinger HP(TM) And Stinger XT HP(TM) Rechargeable Flashlights

High-Performance Flashlights Deliver Three Times The Power Of Original Models

(March 18, 2002) Eagleville, PA -- Streamlight, Inc., a leading manufacturer of high-intensity flashlights for professional and consumer applications, has introduced the Stinger HP(TM) and Stinger XT HP(TM) rechargeable flashlights. Modeled after the original Streamlight Stinger and Stinger XT, the new flashlights deliver increased power, almost three times more, in a style and design that users have come to appreciate.

According to Streamlight President Brad Penney, what distinguishes the new Stinger HP and Stinger XT HP from their predecessors is the "HP", which stands for high performance and represents the significant increase in power they deliver. "The original Stingers have long been known as the most powerful rechargeable flashlights for their size," commented Penney. "With the introduction of our new high-performance flashlights, we've raised the bar to an unprecedented level. The Stinger HP and Stinger XT HP lights deliver up to 40,000 candlepower, which is almost three times the power of the original models."

In addition to the increased power, the high-performance lights offer all the features users have come to value in the original Stingers. The Stinger XT HP features a rubber button tailcap switch that is easy to find in any orientation, and is designed with a non-slip rubber grip. The high-performance lights, which are fitted with xenon-halogen gas filled bi-pin bulbs, feature momentary and constant on switching to give users flexibility in operation. Nickel cadmium rechargeable batteries power the flashlights for up to one continuous hour between charges. Highly durable, the new Stinger HP and Stinger XT HP are encased in virtually indestructible machined aluminum and feature unbreakable polycarbonate lenses.

The Stinger HP weighs 12.2 ounces and measures 8.25 inches long, while the Stinger XT HP is slightly larger, at 14.6 ounces and 8.625 inches. The enhanced flashlights, which feature AC/DC recharging capabilities and two charger holders, are available with a steady charger, fast charger or PiggyBack(R) Charger. The Stinger HP and Stinger XT HP retail from $129.95 to $209.95. Included is a limited lifetime warranty on the body and switch and a one-year manufacturer's warranty on the battery and charger.

An optional Stinger UIltraHead Upgrade Kit is available for current Streamlight Stinger and Stinger XT owners to convert their flashlights to high-performance lights. The upgrade kit, which includes a Stinger bulb and a reflector/lens assembly that easily retrofits on to existing models, increases the lights' candlepower from 15,000 to 40,000, and lists for $34.95.

Based in Eagleville, PA, Streamlight, Inc. is a leading manufacturer of high-performance lighting equipment for professional law enforcement, firefighting, industrial and consumer applications. For more information, please call Streamlight at 1-800-523-7488 or visit streamlight.com.

Contact:
Marie Lacey
FCF Schmidt Public Relations
610-941-0395
mlacey@fcfschmidtpr.com

Mary Ellen Giangiulio
Streamlight, Inc.
610-631-0600 phone 610-631-0712 fax
800-523-7488 phone 800-220-7007 fax
www.streamlight.com

Please email your request to mlacey@fcfschmidtpr.com

More from Mechanical Components and Assemblies