Flashing Safety Mat operates 48 hr on 2 AA batteries.
Press Release Summary: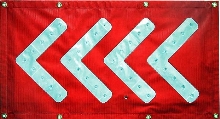 Measuring 35 x 19.3 in., Flashing Chevron Arrow Mat is supplied with 8 magnets for attachment to metal surfaces. It is made of soft nylon material and has 4 reflective Chevron arrows with 9 red LEDs per arrow, providing total brightness of 4,000-5,000 cd. Average LED life span is 100,000+ hr. Applications indlude providing direction to location, as delivery service loading/unloading warning light, or as roadside emergency traffic director.
---
Original Press Release:

Safety/Emergency Flashing LED Chevron Arrow Mat Operates for Nearly 48 Hours on 2 AA-Batteries


TORRANCE, CA - June 20, 2005 - LEDtronics announces the release of it's LED Flashing Chevron Arrow Mat. This convenient, portable flashing LED arrow mat is the ideal safety item for all motorist, police, truck drivers and utility workers.

LED lamps operate for more than 100,000 hours (10 years). This energy-efficient Flashing LED chevron arrow mat operates for nearly 48 hours on two replaceable AA-cell batteries. (Batteries are not included). Use the LED Flashing Chevron Arrow Mat as a reliable portable safety light source to Provide Direction to a Location, Delivery Service Loading/Unloading Warning Light, Road Detour Traffic Director or Roadside Emergency Traffic Director.

This Flashing LED chevron arrow mat comes with 8 magnets so it can easily be attached to Metal Surfaces. It is only 35 inches long and 19.3 inches high. The Mat is made of a soft nylon material. There are 4 reflective Chevron arrows that have 9 Red LEDs per arrow for a total of 36 LEDs that put out a total brightness of 4000~5000 cd.

With an average LED life span of 100,000-plus hours (11 years), LEDs operate reliably year-after-year. Solid-state design renders LEDs impervious to electrical and mechanical shock, vibration, frequent switching and environmental fluctuation. LED lamps use only 10% - 20% of the energy consumed by equivalent incandescent lamps that when combined with their maintenance-free operation results in substantial cost savings.

Founded in 1983, LEDtronics® leads where others only follow when it comes to designing, manufacturing and packaging state-of-the-art LEDs to meet the world's constantly changing lighting needs. Our inventive product line encompasses an array of direct incandescent lamp replacement Based LEDs, low-cost snap-in and relampable Panel Mount LEDs, high intensity sunlight-visible Discrete LEDs, PCB LEDs circuit board status indicators, surface mount diodes SMT LEDs, full-spectrum rainbow RGB LEDs, Ultraviolet (UV) and Infra-Red (IR) LEDs.

Price for the LED Chevron warring mat is $69.95 each. Availability is stock to 4 weeks for special requirements. For additional information, contact LEDtronics toll free at 1-800-579-4875, telephone 310-534-1505, fax at 310-534-1424, e-mail webmaster@ledtronics.com or mail at LEDtronics Inc., 23105 Kashiwa Court, Torrance, CA 90505. Visit our website at ledtronics.com.

The direct web link to the on-line datasheet is as follows:
ledtronics.com/ds/CHEVRON-4-RED-01/default.asp

For Technical Information Contact:
Jordon Papanier at 310-534-1505
E-Mail: jpapanier@ledtronics.com


More from HVAC