Flash Memory Cards feature extended temperature rating.
Press Release Summary: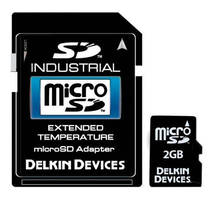 Capable of write speeds up to 16 Mb/sec and read speeds up to 17 Mb/sec, industrial-grade microSD(TM) cards operate in extreme temperatures ranging from -40 to 85°C. They are built with SLC NAND Flash and are available in 128 Mb to 2 Gb capacities. Providing shock and vibration stability, cards are suited for industrial and military applications, including industrial automation, mobile telecommunications, transportation, healthcare, GPS navigation, and aviation.
---
Original Press Release:

Delkin Releases Fastest microSD(TM) with Extended Temperature Rating in Its Class



Delkin Devices, Inc., a world leader in industrial "built-to-order" flash storage solutions, today announced their line of industrial microSD(TM) cards. The new industrial-grade cards read and write at speeds never before seen from the microSD(TM) platform, and are built to excel in extreme temperature conditions. Delkin has engineered the new cards to meet the increasing demand for Flash Memory Cards in military and industrial markets where a small form factor and specialized performance is required. This product will join Delkin's extensive list of industrial flash memory solutions.

"With over 20 years of experience, we're familiar with this market and understand the need for a smaller form factor that can keep up with, and even exceed what a typical industrial SD card is capable of. Delkin is able to engineer that solution for military and industrial use," said CEO Martin Wood. "It's our expertise in manufacturing ruggedized flash memory for OEM customers that drives us to provide the best solutions possible; not only are these cards fast but they can endure even the most extreme operating conditions."

The microSD(TM) card's tiny size, remarkably fast data transfer rate, extended temperature range, and increased programming write cycle capability makes it the perfect choice for designers that require optimal performance in a small form factor. The cards are capable of write speeds up to 16MB/s and read speeds up to 17MB/s, which surpasses the typical Multi-Level Cell (MLC) microSD(TM) card by at least six times. Furthermore, the cards are capable of operating in extreme temperatures ranging from -40 to 85°C. They also offer enhanced shock and vibration stability and over ten times the number of standard programming write cycles. Delkin's industrial microSD(TM) cards are built with SLC NAND Flash and are available in 128MB to 2GB capacities.

Delkin Devices microSD(TM) cards adhere to a strictly controlled specification using only certified Single-Level (SLC) flash to ensure no variation in performance or longevity. Control of each memory card's performance is assured by a configurable part number and a locked down Bill of Materials, minimizing the prospect of unscheduled field inspections and product replacement. Only extended temperature components are used and cards are continually tested for enhanced shock and vibration performance. These specialized cards are an ideal solution for industrial and military applications, including industrial automation, mobile telecommunications, transportation, healthcare, GPS navigation, aviation, and other environments where reliability is required along with data integrity. For more information visit www.delkinoem.com or call 800-637-8087 and ask for the industrial storage solution sales team.

About Delkin Devices, Inc.
Delkin Devices, Inc. is a USA manufacturer of OEM flash memory with over 20 years of expertise providing customized, solid state drives and data storage solutions. Delkin's flash memory storage offers enhanced shock and vibration specifications, extended temperature ranges for extreme environments and a variety of customized features. Using single level cell (SLC) flash and other components designed for MIL-SPEC 80 performance assures both board reliability and speedy operation. These components, along with advanced error detection and correction code, and static and dynamic wear leveling, keep Delkin memory cards operating to specification up to 10 times longer than off-the-shelf memory solutions. Engineering support and customer service is right at hand, here in the USA. Rugged Controlled Storage. That's what makes Delkin Devices the right choice.

Contact:
Tom Robeson
Marketing Manager
Delkin Devices, Inc.
Phone: 858-391-1234 X111
Email: trobeson@delkin.com

Company Name: Delkin Devices, Inc.
Address 1: 13350 Kirkham Way
City: Poway
State: CA
Zip: 92064
Country: USA
Phone: 858-391-1234
URL: www.delkinoem.com

More from Electrical Equipment & Systems