Flap Wheels accommodate finishing and sanding.
Press Release Summary: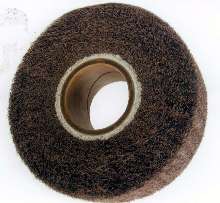 Anderlex® Flap Wheels can be used on flat or contoured surfaces, and are practical for very fine finishes on aluminum, brass, and stainless steel. They can conform to irregular surfaces and create long-line brush finishes. Applications include applying satin finishes on soft metals, removing oxide from precious metals, removing fine burrs on threaded metals, producing fine finishes on aluminum extrusions, and for final sanding of wood moldings.
---
Original Press Release:
Anderlex® for the Very Best

Anderson Products' Anderlex Flap Wheels offer an extensive range of performance capability to accommodate most finishing and sanding. With their conformability and complete density range, these flap wheels can be used on flat or contoured surfaces. Anderlex flap wheels are practical for very fine finishes on aluminum, brass and stainless steel, are flexible to suit irregular or contoured surfaces, and are capable of creating long-line brush finishes.

Anderson's Anderlex flap wheels are also designed to fortify control of the wheel action, maximizing the removal of surface contaminates. Most popular applications include applying satin finishes on soft metals, removing oxide from precious metals, removing fine burrs on threaded metals, producing fine finishes on aluminum extrusions, and for the final sanding of wood moldings. Anderlex flap wheels are designed with enough flexibility to conform to irregular surfaces, yet steadfast in their composition to perform and achieve the highest standards.

Anderson Products also offers an extensive line of abrasive products, industrial brushes and maintenance products.

For additional information, contact your nearest Anderson distributor, or contact: Anderson Products, 1040 Southbridge Street, Worcester, MA 01610 - Toll free (800) 755-6101 FAX: (800) 729-4694 www.andersonproducts.com.


DATE: August 1, 2003

CONTACT: Eric Aho

FOR RELEASE: IMMEDIATELY

PHONE: (800) 755-6101, ext. 3017
More from Architectural & Civil Engineering Products