Flap Discs are designed for metal finishing applications.
Press Release Summary: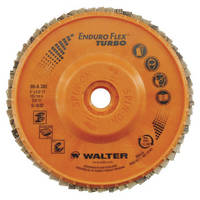 Intended for overall removal, Enduro-Flex features ECO-TRIM backing made from base of natural and sustainable plant fibers; 5 in. disc with Grit 40 removes up to 2,500 g over its lifespan. Enduro-Flex Turbo, used for weld removal, edge breaking, and blending applications, has proprietary mixture of high content self-sharpening grains. Built-in Cyclone Technology, along with flap configuration, lets operators perform with cutting rate of grit 36 with finish of grit 60.
---
Original Press Release:

Walter Surface Technologies Announces Key Improvements to New Enduro-flex and Enduro-flex Turbo Finishing Discs



Windsor, CT Montreal – The most durable flap discs on the market today are now better than ever before. Walter Surface Technologies (WST), a leader in innovative solutions for the metal working industry, today announced key enhancements to its cutting edge line of flap discs branded as Enduro-Flex and Enduro-Flex Turbo for metal finishing applications – earning high marks in finishing performance, removal rate and cost efficiency.



ENDURO-FLEX: leading flap disc for overall removal is now AN ECO-FRIENDLY alternative

When it comes to the metal fabricating and finishing industry, having high performance and being eco-friendly are no longer mutually exclusive. In addition to being the highest performing finishing discs on the market, the best selling Enduro-Flex now foregoes the traditional plastic backing and has been improved with an innovative ECO-TRIM backing made from a base of natural and sustainable plant fibers. In 2013, Walter will manufacture millions of Enduro-Flex flap discs with the new backing – helping to dramatically reduce plastic production output. Using less plastic reflects Walter's clear commitment to reducing the overall ecological footprint. A percentage of Enduro-Flex sales will go to funding the planting of new trees to regenerate forests for future generations.



Designed as the ideal solution for finishing steel and stainless steel, Enduro-Flex flap discs require fewer changeovers, which help reduce waste and ensure greater operational efficiency. In comparative tests between flap discs, Enduro-Flex set the industry standard with 130 per cent more steel removed than leading competition. This saves both time and costs while simultaneously providing an environmentally sound solution. A 5-inch disc with Grit 40 removes up to 2,500 grams over its lifespan – performance is comparable in other Walter disc sizes and different grit sizes.



ENDURO-FLEX TURBO: an industry leader in ''ultra high speed'' removal times

With 60% more material removal than before, Enduro-Flex Turbo, is the fastest cutting flap disc in the industry today. Designed for weld removal, edge breaking and blending applications, the new Enduro-Flex Turbo is faster than ever - delivering top performance via a unique proprietary mixture of high content self-sharpening grains. Its built-in Cyclone Technology, along with an innovative new flap configuration enables operators to perform with an ultra fast cutting rate of a grit 36 with the finish of a grit 60.  Enduro-Flex Turbo also provides Turbofan cooling (patent pending technology), meaning the piece being worked on stays cooler by at least 10%.  This translates into less surface damage and longer disc life. Whoever can grind or clean the most, the quickest, and the finest, wins hands down — the enhanced Enduro-Flex Turbo works fast on both steel and stainless.



"With our cutting-edge Enduro-Flex and Enduro-Flex Turbo offerings, we are proud to announce the continued evolution of the longest lasting, most durable finishing discs currently on the market," says Pierre Somers, Chairman and CEO of Walter Surface Technologies International. "Time really means money in today's highly competitive metalworking industry and companies can take advantage of Enduro-Flex and Enduro-Flex Turbo to boost productivity and efficiency. It's about working smarter, not harder — compared to standard blending discs, innovative solutions help operators cut costs, reduce waste and boost removal rate times."



About WALTER – over 60 years of success

Walter Surface Technologies has grown as a leader in surface treatment technologies for more than 60 years, providing high productivity abrasives, power tools, tooling, chemical tools and environmental solutions for the metal working industry. Founded in Montreal in 1952, the company is now established in seven countries throughout North America, South America and Europe. International headquarters are located in Montreal, and US headquarters in Windsor, Connecticut.



www.walter.com



Press Office

Walter Surface Technologies International

Dumas Bergen Public Relations  - 514-866-9816

Jean-Carl Bergen

jcbergen@videotron.ca

More from Computer Hardware & Peripherals