Flannel Bag Packaging accommodates diverse industry needs.
Press Release Summary: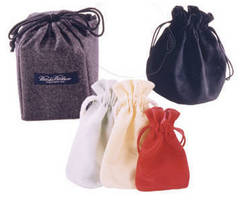 Flannel bags and pouches, available in many shapes and colors, can be custom-made to accommodate presentation and gift packaging needs. Drawstring flap, zipper, or other custom closures are offered in addition to colors that reflect branding and identity. Range of logo and graphic printing or embroidery options are also available. Specific products include Silverpak flannel, which is formulated to prevent tarnish and keep fine products from scratching.
---
Original Press Release:

Expanded Flannel Bag Packaging Applications



Accurate Flannel Bag Co. is a custom textile packaging manufacturers since 1916. Bag makers; bag packaging designers and manufacturers with over four generations of master craftsmen. Accurate specializes in custom bags, brand enhancing product packaging, pouches, rolls, sales presentations, totes, purses, covers, and polishing flannel. Now featuring flannel bags & pouches in all materials, shapes & colors for presentations & gift packaging.

Now opening new possibilities with our line of flannel bags & flannel manufactured products Accurate expands it's applications reach. Whether it's packaging shoe bag, jewelry bag, or cosmetic & fragrance bag packaging, we have the style you need in drawstring flap, zipper or a closure to your custom desire. Bottle bags for liquor & beverage industries for enhanced POP presentation and pouch bags & bag products for silverware & specialty giftware. Our Silverpak formulated anti-tarnish flannel is specialty formulated to prevent tarnish & keep fine products from scratching. Flannel colors to reflect branding & identity with complete custom range of logo & graphic printing or embroidery.

Click here for all your flannel needs, www.accuratebags.com/TContent/FBags/FlannelBags.aspx

We create bags of all kinds: Computer Bags with handles and adjustable padded shoulder straps, Fashion Bags, Accessories Bags, Industrial Bags, Components Bags, Athletic Bags, Gym Bags, Climbing Bags, Bike Bags, Messenger Bags, Medical Bags, Dental Bags, Tool Cases, Custom Sales Presentations, Makeup Rolls and Cases, Custom-fit Components Bags, Custom Covers, Padded Carry Heavyweight, Waterproof and Heat Resistant Bags, Insulated Bags, Pizza Delivery Bags, etc.

The World's finest products come in Accurate bags serving the following industries; silver, jewelry, crystal, liquor, purses, pewter, shoes, boots, medical, surgical and dental tools, implants, pharmaceutical kits, watches, perfume, trophies, clocks, creative promotions, plaques, pens, coins, laundry, ornaments, invitations, books, etc.

Experience professional design, beautiful materials, top quality production, on time deliveries, no excuses. Proudly Made in America! Competitively Priced, Time Tested, Creative, Reliable, Experienced, Strong and Able. Accurate. Call for expert advise at (800) 234-9200, fax (973) 689-6774, or e-mail to service@accuratebags.com. Please visit our website at, www.accuratebags.com

More from Communication Systems & Equipment