Flange Facing Machines suit heavy-duty applications.
Press Release Summary: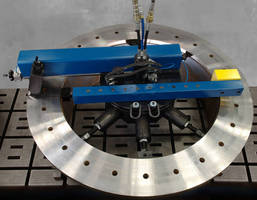 Used for in-situ repair and on-site machining of flange surfaces, FF6200/FF7200/FF8200 let users adjust feed rate while machine is running and without reaching into it. Feed rate is infinitely variable from 0.002-0.035 in./rev, and heavy-duty, construction-grade bearings provide rigid performance throughout entire machining range. Turning arm and tool head rotate full 360°, creating variety of chamfers, o-ring grooves, and other angular surfaces as well as generating phonographic finishes.
---
Original Press Release:
Climax Portable Machine Tools Introduces Heavy-Duty Flange Facers for Precise, On-Site Machining
New safety and operating features improve tool performance, reduce repair and maintenance costs NEWBERG, Oregon, and Düren, Germany - Climax Portable Machine Tools' new line of powerful, versatile flange facers are ideal for in-situ repair and on-site machining of demanding flange surfaces. Developed for use in power generation facilities, petrochemical plants, ship building and maintenance applications, and in the heavy equipment industry, the new flange facers' operating power and rigid design enable fast and accurate metals removal. Climax's new machines have an exclusive, patented safety feature. They are the only flange facers on the market that let operators adjust the feed rate while the machine is still running, without having to reach into the machine. They can achieve infinitely variable feed rates from 0.002 to 0.035-inches/rev (0.0508 to 0.889 mm/rev). "These new flange facers comply with the latest European CE safety standards, making them the safest portable flange facers to operate today," said Geoff Gilmore, president of Climax Portable Machine Tools. "With these new flange facers, customers attain a level of power unparalleled in other tool options, helping them get their jobs done faster and more efficiently." Features such as large, heavy-duty construction-grade bearings provide powerful, rigid performance throughout the entire machining range, even when machining over bolt hole patterns. These features substantially shorten the time needed for repairs to equipment such as flanges on piping systems, heat exchangers, pump housings, hatch seat openings, and bearing mounts. The machine's turning arm and tool head rotate a full 360 degrees, creating a variety of chamfers, O-Ring grooves, and other angular surfaces, and generating phonographic finishes. Modular construction over the entire line minimizes the number of individual components and greatly simplifies machine set-up and tear down. The new flange facer line includes:
Climax FF6200 with a facing range from 20 to 50 inches (508 to 1270 mm);
Climax FF7200, with a facing range of 30 to 72 inches (762 to 1829 mm); and
Climax FF8200, with a facing range of 45 to 120 inches (1143 to 3048 mm). In addition to a broad line of flange facers, boring machines, autoborewelders, milling machines, portable lathes, and valve repair machines, Climax specializes in customizing portable machine tools to fit any repair and maintenance application. Detailed specifications and operational dimensions of Climax's complete line of flange facers are available at www.cpmt.com/products/flange-facers About Climax Portable Machine Tools, Inc. Based in Oregon and Germany, Climax Portable Machine Tools, Inc. is a strategic world-class provider of comprehensive, custom on-site machining solutions. The company offers specialized engineering consulting services, customized training programs and a full line of portable machine tools for sale and rent, enabling customers to efficiently perform on-site machining for applications in the power generation, shipbuilding, heavy construction and mining, as well as service and engineering sectors. Climax Portable Machine Tools pioneered the portable machine tools concept over 40 years ago, and as the world's largest supplier of portable machine tools, offers standard and custom-built solutions. It holds 21 issues patents with four pending. Climax serves domestic and international markets through its own international offices and licensed representatives in 26 countries. More information about the company is available at www.cpmt.com or by calling 1-800-333-8311 toll free in the US or 1-503-538-2185 worldwide.
More from Printing & Duplicating Equipment