FläktGroup® SEMCOTM Announces Higher Capacity Chilled Beam Pump Modules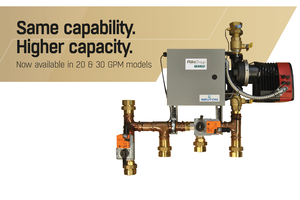 New sizes feature higher capacities of 20 and 30 gallons per minute (gpm).
Columbia, Mo. – FläktGroup SEMCO has released two new NEUTON Controlled Chilled Beam Pump Modules (CCBPM) sizes–20 gpm and 30 gpm. In 2015, FläktGroup SEMCO launched the awardwinning, patented NEUTON which provides active condensation control–effectively addressing one of the key design concerns regarding active chilled beams. The NEUTON which is the HVAC industry's first smart, plug-and-play CCBPM, reduces chilled beam system installation cost by up to 30% through reduced labor and materials associated with zone piping, fittings, and building automation system complexity required per project. It reduces operational costs by eliminating the expense of a separate chiller, boiler, plate exchanger and secondary water distribution system associated with conventional chilled beam designs. Instead of expensive secondary piping loops, each NEUTON blends and recirculates return water within its zone to convert typical 42°F and 140°F primary loop water temperatures to optimal 58°F or 100°F chilled beam discharge temperatures. This prevents cooling mode condensation and heating season heat stratification. And now it comes in two larger sizes, to offer larger water capacity to handle more beams or to serve larger spaces per pump module.
The new NEUTON CCBPM-20 has a water flow of 20 gpm with 39 feet of external head pressure. The NEUTON CCBPM-30 has water flows of 30 gpm with 49 feet of external head pressure. These higher capacities enable the larger NEUTONs to control 15-20 chilled beams each while the smaller NEUTON CCBPM-11 size will control up to ten.
"As chilled beam system projects have evolved, and larger zones look to use chilled beams, SEMCO found the need for larger pump systems to handle these larger zones. Without sacrificing the proactive condensation while gaining control and piping cost savings that the NEUTON provides, we can handle zones totaling up to 30 beams," FläktGroup SEMCO's Director of Sales for Air Quality Solutions, Tom Rice said.
NEUTON is a key part of FläktGroup SEMCO's 3fficiency system which combines the NEUTON, Pinnacle dedicated outdoor air system (DOAS), and chilled beams. The combination of these three products creates low noise levels, reduced filter maintenance, excellent humidity control, and improved air quality.
The three different NEUTON pump capacities are available in a variety of configurations. Some include the NEUTON2 , which has a single actuator for summer/winter switchover and the NEUTON4 which uses dual actuators allowing for simultaneous heating and cooling. Other options include single zone, single setpoint control and multi-zone offered with single or multiple setpoint control.
The NEUTON received the AHR Expo 2016 Innovation Award, the 2016 School Planning and Management and the College Planning and Management New Product of the Year Gold Award.
About FläktGroup SEMCO
FläktGroup SEMCO is the North American division of FläktGroup. Doing business as SEMCO until 2017, the company has been developing and manufacturing products that improve indoor air quality and provide efficient air distribution since 1963. Since its founding as a sheet metal fabrication company with five employees, the company has built a reputation as a worldwide product innovator in the science of air movement, noise abatement, energy efficiency and indoor air quality with more than 200 employees and more than 200 manufacturer's representatives. Major product lines include energy recovery equipment, chilled beams, acoustic thermal panels and silencers, and spiral metal HVAC duct. FläktGroup SEMCO is based in Columbia, Mo. It operates three manufacturing facilities. Two in Morrilton, Ark., and one in Roanoke, Va. FläktGroup SEMCO also operates an ASHRAE 84-compliant research and development facility dedicated to the innovation of new products for the 21st Century and beyond. For more information, please visit www.semcohvac.com; email sales.semco@flaktgroup.com; or call 1-573-443- 1481.
Contact:
Colleen Devlin, Director of Marketing
FläktGroup® SEMCOTM
573-886-1102
colleen.devlin@flaktgroup.com
More from Cleaning Products & Equipment