Fixed Wiring Installation Tester takes accelerated measurements.
Press Release Summary: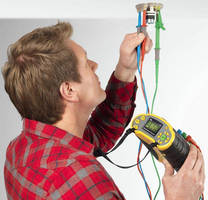 Running on 4 batteries and weighing 675 g, ergonomically designed SureTest® complies with BS7671: 2008 (17th Edition) IEE Wiring Regulations and is EN61557 compliant. In seconds, device can take loop impedance measurements that will not trip Residual Current Devices (RCDs). It can also measure frequency and phase rotation in 3-phase installations as well as calculate and display Prospective Short Circuit Current and Prospective Earth Fault Current.
---
Original Press Release:

New Installation Tester Speeds Up Testing of Domestic, Commercial and Industrial Fixed Wiring Installations



The new SureTest® installation tester from IDEAL INDUSTRIES NETWORKS DIVISION is easy to use, very compact and ergonomically designed. Through clever use of new, lighter components and materials, as well as fewer (four) batteries, the device weighs just 675g, around 50 per cent lighter than most competing testers on the market - a genuine advantage if an electrician is testing for long periods.

In order to deal with new technology developments and stricter legislation, electrical contractors have had to acquire increased knowledge and skills. New technologies such as renewable energy generation, combined heat and power (CHP) systems, small scale embedded generators and solar photovoltaic power supply systems require additional regulations. Residual Current Devices (RCDs) are increasingly being utilised in wiring installations, which means electricians require accurate, rapid non-trip loop testing devices.

SureTest® complies with BS7671: 2008 (17th Edition) IEE Wiring Regulations and is EN61557 compliant. In a matter of seconds, the device can take accurate loop impedance measurements that won't trip RCDs. The device is able to measure frequency and phase rotation in three-phase installations and includes a calibration certificate.

Peter Halloway, Channel Manager at IDEAL INDUSTRIES NETWORKS DIVISION comments: "Most electricians, particularly sole traders and the self-employed, don't have enormous purchasing budgets and so ideally they want to buy one installation tester that provides all the functionality in one device, including non-trip loop testing and phase sequencing to comply with the latest 17th Edition wiring regulations. SureTest® gives them all this functionality in an easy-to-use, affordable package."

An Auto-RCD feature helps save time on the job, eliminating the need for an electrician to go back and forth to the distribution board. The device also calculates and displays both Prospective Short Circuit Current (PSCC) and Prospective Earth Fault Current (PEFC), providing fast, error-free reporting.

A separate Ramp Test enables the user to quickly identify RCDs that are prone to nuisance tripping. The tester ramps up the applied current until the RCD trips and then displays the reading on screen. When testing continuity, a smart 'null' feature zeros out any test lead resistance, reducing measurement errors.

Insulation test voltages of 250, 500 and 1,000V are provided, as well as a remote test probe that helps electricians perform tests in awkward, hard-to-reach locations. SureTest® has a simple, uncluttered front panel and menu structure, making it easy to use. The device also benefits from an ultra-lightweight, rugged OLED display (similar to the latest mobile phones).

"SureTest® is able to perform non-trip loop testing and is one of the fastest devices currently available," adds Peter Halloway.

The SureTest® kit comes with a complete set of detachable test leads, a switched remote test probe, crocodile clips, traceable calibration certificates, hard copy user guide, and a padded carrying case that stores the tester and all its accessories safely inside. SureTest® comes with a two-year warranty, upgraded to three years if the user registers online.

For more information, please call 01925 444446 or visit the "What's New" section on www.idealindustries.co.uk. Alternatively, you can contact IDEAL INDUSTRIES NETWORKS DIVISION on uksales@idealnwd.com

About IDEAL Industries, Inc.
Ideal Industries, Inc. is one of the world's largest manufacturers and suppliers of quality tools and test products supplies for the electrical and data communications markets. Since 1916 the company has built a solid reputation as an engineer of innovative and trustworthy products. Ideal offers more than 6,000 proven, predictable items to professionals across the electrical, construction, maintenance, data communications, telecommunications, cabling and original manufacturing industries. The company's divisions include Electrical, DataComm, Wire Processing and OEM Connection Systems.

Ideal is a privately held corporation headquartered in Sycamore, Illinois with additional manufacturing and distribution facilities across USA and Canada. International sales facilities are located within Europe in UK, Germany and Australia.

www.idealindustries.com


More from Electronic Components & Devices