Fisheye Projection Lenses suit dome- and spherical-shaped screens.
Press Release Summary: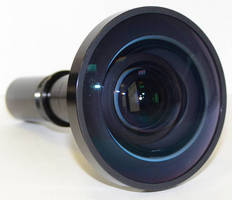 HemiStar® HS65 series 180°/360° fisheye projection lenses can project at field of view of 185° x 185° for dome type application as well as image approximately 360° in spherical display system from one projector. Products are designed for 0.65 in. format single chip digital light processing projectors (DLPs). Image quality exhibits 65% MTF at center and 30% MTF at edge at 46 lp/mm.
---
Original Press Release:
Navitar Expands HemiStar® Lens Series with New HS65 Lens Designed for 180°/360° Fisheye Projection
ROCHESTER, NEW YORK - Navitar, a global leader in optical technology, recently expanded their line of HemiStar® 180°/360° fisheye projection lenses with the addition of the HS65 series. The HemiStar HS65 lenses are the ideal projection solution for planetariums, immersive display applications, and spherical-shaped digital signage systems. Navitar's HemiStar lenses provide our customers with an innovative presentation solution for projecting bright, crisp images onto a variety of dome and spherical shaped projection screen surfaces, using just one projector. Previously, integrators had no option but to stitch together images projected from multiple projectors. "Navitar customers are using the HemiStar lenses in a vast array of unique and cutting edge applications, including but not limited to sphere display systems, inflatable planetariums, events, interactive displays, simulation and video gaming," comments Laura Nice, Product Manager for the HemiStar lens line. The HemiStar HS65 lens is designed for a 0.65" format single chip DLP, such as the Panasonic PT DW6300 WXGA, as well as 0.67" PT DZ6700 WUXGA, 1080p and XGA. The lens can project at a field of view of 185° x 185° for a dome type application as well as image approximately 360° in a spherical projection display system. Image quality is of the highest video caliber, boasting 65% MTF at center and 30% MTF at edge at 46 lp/mm. Also included in the HemiStar line are the HS13 and HS95 series of lenses for 1.3" XGA and 0.90" WQXGA panels, respectively. Navitar also offers custom projection solutions for use in large planetarium domes of various projection formats and dome sizes. These systems, with higher resolution and brightness, typically have two or more projectors and include provisions for masking, blending, filters and polarization. Julian Goldstein, Co-president of Navitar comments, "Navitar continues to expand the HemiStar lens series to assist our customers in making the jump from traditional flat screen media. The next wave in digital signage is projecting onto curved and round shaped screen surfaces. Our lenses give them the maximum impact and results they are looking for in their chosen application." About Navitar: Navitar, Inc. designs, develops, manufactures and distributes precision optical solutions across the globe. Navitar Imaging Solutions, Projection Optics and Custom Optics divisions produce leading-edge optical and electro-optical technologies for the fastest growing segments of the world's economy. Their optical solutions are used in a wide variety of industries including Biotechnology & Medical, Defense & Security, Industrial Imaging and Projection. Applications include machine vision, automation, assembly, imaging, testing, measuring, metrology, biometrics, telecommunications, photonics R&D, non-contact measurement, simulation, and much more. Navitar is the largest manufacturer in the world of stock and custom designed projector lenses for most formats of digital projectors including new high resolution 3-chip DLP, SXRD, D-ILA, LCOS, WXGA, 1080p, 2K and 4K projectors. These lenses let you place the projector almost anywhere while maintaining high quality images. Navitar has designed lenses for a variety of applications including flight and training simulators, dome presentations, planetariums, Broadway shows, amusement rides, retail display, and art in public places. For more information, contact Navitar at 585-359-4000/800-828-6778 or visit our website at www.navitar.com.
More from Agricultural & Farming Products