Fish Tape works in problem conduit.
Press Release Summary: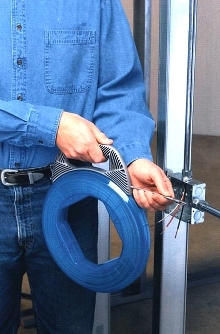 Zoom Fish Tape has stainless steel core and hard polyamide resin jacket that handles multiple bends and changes in plane without hanging up or deforming. It works in conduit runs with difficult cable placement characteristics such as multiple bends, elbows, and junction boxes. Translucent case allows operator to see how much tape is in case without having to pay out full length of tape. Tapes are available 50 and 100 ft lengths.
---
Original Press Release:

IDEAL Industries Introduces Dynamic New Zoom Fish Tape at the Electric West Exposition


LAS VEGAS, NV, February 11, 2002 (Electric West Trade Show, Booth 501) IDEAL is using the Electric West Trade Show as a launch pad for its new Zoom Fish Tape, a radically different design that features a braided stainless steel core and ultra hard polyamide resin jacket. Optimized for use in conduit runs with difficult cable placement characteristics such as multiple bends, elbows, and junction boxes, Zoom Fish Tape has the capability to deliver true omni-directional pushing performance, so it can handle multiple bends and changes in plane without hanging up or deforming within the conduit.

IDEAL Zoom fish tapes are being offered in 50' and 100' lengths. Priced under $99 retail, the Zoom fish tape will be sold at IDEAL authorized electrical distributors in the US and Canada.

THE MOST ADVANCED FISH TAPE EVER
According to Bruce Hartranft, Business Unit Manager at IDEAL and a member of the Zoom Development Team, Zoom is the most technologically advanced fish tape ever offered and addresses professional electricians' critical need for a flexible, yet durable and easy to handle fish tape: "We evaluated all the fish tapes on the market, including samples from Europe and Asia, during the development of this new tape. None demonstrated all the performance characteristics needed by electricians for difficult cable installation jobs. We decided a new tape was needed; one that pushed and pulled well through multiple bends < without breakage or rust."

"Zoom slides more easily than any fish tape we've offered before; it sets new standards for the industry," stated Don Hawkins, Manufacturing Engineer on the Zoom Development Team. "We worked closely the cable makers, testing and revising the design until Zoom had the optimum mix of pushing and pulling characteristics needed."

Bruce Konen, Senior Design Engineer on the Zoom Development Team, notes that the stainless steel and polyamide construction assures long, rust-free service life: "We found a lot of the toughest cable installation was done in wet environments. Underground conduit frequently fills with moisture and even interior conduit saturated with wire pulling lubricants can rust a typical fish tape. The Zoom tape slides through these problems and never fails. Even put away wet, the tape retains its full performance for next use. Final construction is being patented to protect the creative efforts of the team and assures IDEAL remains in the leadership spot in the fish tape marketplace.

CLEARLY TUFF'R TRANSPARENT CASE
The Zoom Clearly Tuff'R blue case is translucent, an amazing development that allows the operator to see how much tape is in the case without having to pay out the full tape. Some competitors put holes in their fish tape cases that allows dirt and debris to enter the case, but the translucent Zoom case provides visibility while fully encapsulating the tape for work site protection.

Extensive resin experimentation and testing was required before IDEAL achieved a suitable optical clarity and impact durability for the case. "This is the toughest case we've ever offered. It is amazing how durable it is, yet it still provides the translucency the customers demanded," said Jeff Louis, manager of the molding team, as he bounced a Clearly Tuff'R case off the cement floor of the factory. "We're molding this case in the IDEAL plastics operation which allows us to closely manage the resin compounding and molding specifications required to meet the product specifications."

The Zoom case features IDEAL's trademark Tuff-Grip(R) handle to provide extra durability and ease of operation. Roomy enough for use with heavy work gloves on, the Tuff-Grip is recognized as the leading fish tape case and handle in the market. Now in translucent blue, the new Clearly Tuff'R' (TM) case builds on the great heritage of the Tuff-Grip.

MADE IN THE U.S.A. Zoom is the first new fish tape made at IDEAL1s retooled Fish Tape Focus Factory.

"While other fish tape manufacturers are vacillating on their commitment to making fish tapes here in the United States, IDEAL has moved forward with significant investment in this business," pointed out Joe Malandra, manager of the new operation. "We're currently expanding our fish tape production facilities and bringing in new manufacturing equipment dedicated to this product line."

Complimenting the new production operation is a soon-to-be-completed 100,000 square foot distribution facility adjacent to the fish tape operation. "We're positioning the company for further technology advances, production increases, and shipping capacity to serve our fish tape customers," noted Malandra.

IDEAL INDUSTRIES, INC. has been serving the electrical industry since 1916. IDEAL is one of the world1s leading manufacturers of professional quality tools and supplies serving installation professionals in the construction, maintenance, data communications and original equipment manufacturing industries.


More from Electronic Components & Devices