First Eco-Friendly, Lightweight Type IV Composite Cylinder for the Propane (LPG) Industry
Press Release Summary: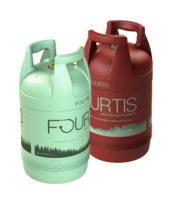 New fully recyclable, resistant to impact, corrosion and permeability cylinder, Fourtis®, can be used for cooking, water heating, and outdoor grilling. It has a fully customizable and easy to clean polymeric jacket with an ergonomic handle. Microchip technologies for tracking, identification, and real-time database assessment is available for the Fourtis.
---
Original Press Release:
Worthington Industries Announces Fully Recyclable, Lightweight Composite Propane Cylinder
COLUMBUS, Ohio—Oct. 9, 2018—Worthington Industries (NYSE:WOR) today announced the launch of its first, fully recyclable Type IV composite cylinder for the propane (LPG) industry. Named Fourtis®, the lightweight cylinder used for cooking, water heating and outdoor grilling was developed by Amtrol-Alfa, a global leader in low pressure steel and composite cylinders that was recently acquired by the Company. 
"We are proud to introduce a lightweight, eco-friendly Type IV LPG cylinder," said Tiago Oliveira, general manager of Amtrol-Alfa. "The Fourtis is made of fully recyclable materials, which is highly valued in the industry because it saves on decommissioning costs and is good for the environment."  

Fourtis is a lightweight (5,00 kg without valve), durable, composite cylinder that is wrapped in a customizable, easy-to-clean polymeric jacket with an ergonomic handle. It is demountable, making reassembling easy, and has a lower maintenance cost than steel cylinders. 
 
"Not only is the Fourtis built to last, but it's also beautifully designed with a fully customizable jacket," said Oliveira. "With in-mould labeling, a variety of colors and high-definition graphics can be applied and leveraged as a powerful marketing tool for our customers." 
Resistant to impact, corrosion and permeability, the Fourtis can also be equipped with state-of-the-art microchip technologies, such as RFID and NFC, for precise tracking, fast identification and real-time database assessment which optimize labor and filling costs.
The Fourtis can be manufactured according to many construction standards, including ISO 11119-3, EN 14427 and EN 12245, for Europe, Asia, Africa, the Middle East and South America. For more information, click here.
About Amtrol-Alfa
Amtrol-Alfa, part of Worthington Industries, manufactures cylinders for the global LPG industry. Through a commitment to R&D, Amtrol-Alfa specializes in producing lightweight cylinders, both composite and high strength steel, to meet customers' unique needs. It's the world's No. 1 producer of lightweight LPG cylinders with a focus on quality, safety and innovation. For more information, visit http://amtrol-alfa.com.
About Worthington Industries
Worthington Industries is a leading global diversified metals manufacturing company with 2018 fiscal year net sales of $3.6 billion.  Headquartered in Columbus, Ohio, Worthington is North America's premier value-added steel processor providing customers with wide ranging capabilities, products and services for a variety of markets including automotive, construction and agriculture; a global leader in manufacturing pressure cylinders for propane, refrigerant and industrial gasses and cryogenic applications, water well tanks for commercial and residential uses, CNG and LNG storage, transportation and alternative fuel tanks, oil & gas equipment, and consumer products for camping, grilling, hand torch solutions and helium balloon kits; and a manufacturer of operator cabs for heavy mobile industrial equipment; laser welded blanks for light weighting applications; automotive racking solutions; and through joint ventures, complete ceiling grid solutions; automotive tooling and stampings; and steel framing for commercial construction.  Worthington employs approximately 12,000 people and operates 84 facilities in 11 countries. 
Safe Harbor Statement
The Company wishes to take advantage of the Safe Harbor provisions included in the Private Securities Litigation Reform Act of 1995 (the "Act"). Statements by the Company relating to its ability to increase market participation, expand and integrate capacity, increase efficiencies and reduce lead time, achieve growth in general and in specific markets, and other statements which are not historical information constitute "forward looking statements" within the meaning of the Act. All forward-looking statements are subject to risks and uncertainties which could cause actual results to differ from those projected. Factors that could cause actual results to differ materially include risks described from time to time in the Company's filings with the Securities and Exchange Commission.