First Aid Kits are equipped to address heat stress.
Press Release Summary: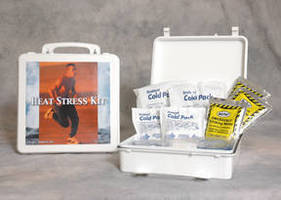 Equipped with water, cold packs, ice tape, and electrolyte tablets, Heat Stress Kits can help prevent heat stroke and heat exhaustion by bringing body temperature down, easing muscle cramps, and hydrating individuals. Kits come in variety of sizes to serve range of environments. They are suitable for coaches, trainers, construction workers, factory workers, and anyone exposed to high temperatures for prolonged periods of time.
---
Original Press Release:

Fieldtex Products Inc. Introduces Heat Stress Kits



Kits specifically designed to prevent heat stroke

Rochester, NY - Fieldtex Products, well-known for their diverse line of quality first-aid kits and medical supplies, has recently reintroduced Heat Stress Kits to their product base. The launch of these kits was brought on by the fact that hundreds of people die each year from heat exhaustion and heat stroke. Each kit includes a variety of cooling products specifically designed to bring the body temperature down, thereby preventing deaths. Fieldtex is very excited to be able to offer a variety of affordable heat stress kits that can easily help to prevent death of overworked athletes, employees or those active in the outdoors.

Fieldtex Products Inc. was founded in 1973. The company is dedicated to manufacturing premium custom cases and distributing superior quality first aid and medical supplies. After continuously seeing heat related deaths in the headlines, Fieldtex Medical felt it was their duty to create a product line to stop these preventable deaths from occurring. Consumers can receiver instant relief from heat exhaustion by getting out of the sun and using the products in our kit: water, cold packs, ice tape and electrolyte tablets. All of these products can be used to cool the body temperature down to a stable level, ease muscle cramps and hydrate individuals.

Heat Stress Kits come in a variety of sizes and serve a diverse range of purposes. They are used by coaches, athletes, trainers, construction workers, hikers, factory workers and anyone exposed to high temperatures for prolonged periods of time. Employers and coaches alike have responded strongly to the idea of having heat stress kits on hand to protect individuals they oversee.

Whether you're looking for a Personal Heat Stress Kit for your weekend camping trip or interested in protecting a team of individuals- we have exactly what you need at a price you can afford. Remember that every kit was designed specifically to treat individuals at risk for heat exhaustion. Also if you're looking for any other medical supplies or sports medicine equipment- Fieldtex Products is the place to be!

For more information about Fieldtex Products please contact Jon Abbey at jona@fieldtex.com. Or visit us at:

www.e-firstaidsupplies.com

www.twitter.com/fieldtex

https://www.facebook.com/Fieldtex

www.linkedin.com/company/fieldtex-products

More information about Fieldtex Products Inc.:

Fieldtex Products Inc. was founded in Rochester, NY in 1973. Over the past 38 years, Fieldtex has continuously grown and evolved into the strong company that it is today. "At Fieldtex, we are continually adding new products to our inventory and expanding our product base," said Sanford Abbey, President and Owner of Fieldtex Products, Inc. And their hard work and success hasn't gone unnoticed- in 2010 they were named one of the 5,000 fastest growing companies in America by Inc. Magazine! Fieldtex Cases produces soft sided carrying cases to house portable electronic equipment for medical and military markets while Fieldtex Medical is a supplier of first-aid and medical supplies.

More from Non-Industrial Products