Fire Extinguisher and Fire Suppression Systems
Fire Suppression System protects flammable liquid storage cabinets.
Press Release Summary: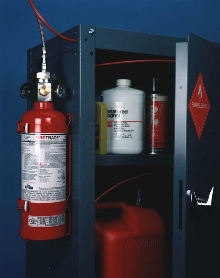 Firetrace® Automatic Fire Suppression System is totally self-contained and features flexible, polymer tubing which can be routed anywhere within cabinet up to 250 cu ft. It is armed with 3 to 20 lbs of fire suppression agent such as FM-200®, CO
2
, dry chemical powders, or foam. When detection tubing is exposed to flame, it automatically ruptures to form nozzle and dispenses all of fire suppression agent. System requires no electricity or external power.
---
Original Press Release:
Fire Suppression System Protects Flammable Liquids Storage Cabinets

A self-contained fire suppression system that automatically detects and suppresses a fire inside of a flammable liquids storage cabinet is being introduced by Firetrace® International of Scottsdale, Arizona.

Firetrace® Automatic Fire Suppression Systems for flammable liquids storage cabinets are totally self-contained and feature a flexible, polymer tubing which can be routed anywhere within a cabinet up to 250 cu.ft. Armed with 3 to 20 lbs. of a fire suppression agent, when this system's proprietary detection tubing is exposed to a flame, it automatically ruptures to form
a nozzle and instantly dispenses all of the fire suppression agent.

Requiring no electricity or external power, Firetrace® Automatic Fire Suppression Systems can be configured to trigger a building's fire alarm. The fire suppression agent such as FM-200®, C02, dry chemical powders, or foam, and the volume, as well as the length of tubing appropriate for the storage cabinet are selected by the customer.

Firetrace® Automatic Fire Suppression Systems are priced according to type of suppression agent, cylinder size, and tubing requirements. Literature and price quotations are available upon request.

For more information contact:

Firetrace® International

David M. Gray, Marketing Mgr.

7898 E. Acoma Dr., Suite 106

Scottsdale, AZ 85260

TOLL-FREE (866) 607-1218 FAX (866) 315-1316

e-mail: gray@firetrace.com

www.firetrace.com


More from Machinery & Machining Tools