Fire Alarm and Suppression Systems support AP digital protocol.
Press Release Summary: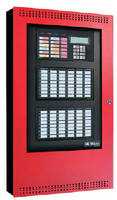 Recommended for both new and retrofit special-hazard, critical-infrastructure suppression, and special agent applications, FX-3500 Series includes intelligent fire alarm control units, which support Advanced Protocol as well as Classic Loop Interface Protocol devices. Control units are fully expandable, provide up to 3 addressable Signal Line Circuits, and connect up to 954 addressable devices or points. Additional features include built-in dialer, local USB, and remote programming capabilities.
---
Original Press Release:

New FX-3500 Series, a Responsive and Intelligent UL/ULC Listed Fire and Suppression Solution, to be Launched by Mircom at NFPA Conference



TORONTO, -- The Mircom Group of Companies is proud to announce the launch of Mircom's new FX-3500 Intelligent Fire Alarm & Suppression Systems. The solutions will be featured at the NFPA Conference & Expo, June 9-12, 2014 at Mandalay Bay Convention Centre in Las Vegas.



The FX-3500 Series includes powerful and intelligent fire alarm control units, which support Advanced Protocol (AP) as well as Classic Loop Interface Protocol (CLIP) devices. The FX-3500 control units are UL 864 Rev 9 and ULC S527-2011 listed for fire control and releasing service.



The FX-3500 Series is recommended for both new and retrofit special-hazard, critical-infrastructure suppression, and special agent applications. Programming versatility makes the FX-3500 Series the ideal choice for dependable fire detection, signaling and protection in industrial, commercial and institutional buildings.



FX-3500 control units are compact in size, yet powerful enough to deliver complex programming requirements. The units are fully expandable, provide up to three addressable Signal Line Circuits (SLCs) and connect up to 954 addressable devices or points. Moreover, FX-3500 systems can be operational with minimal set up time and can be configured using an onsite laptop or through a remote PC via an on-board modem.



"The FX-3500 Series is unique in the marketplace. It supports the new AP digital protocol, greatly increasing point capacity up to 318 devices per loop, while still supporting retrofit solutions through backward compatibility with CLIP devices,"said David Andersen, Product Manager, Mircom Group of Companies.



When designing the FX-3500 Series, Mircom Group listened to the voice of customers and integrated requested features such as an intelligent releasing system, built-in dialer, local USB, and remote programming capabilities. The solution line-up is sure to meet the multi-faceted needs of customers.



"The FX-3500 Series is ideal for small to medium size applications, allowing Mircom Group to tailor a cost effective solution to meet market needs for smaller intelligent solutions, where our FX-2000 or FleX-Net solutions may be excessive for the project requirements.  Leveraging the readily available CLIP and AP protocol devices that are used on many of our larger panels as well will allow customers to streamline their inventory with ready to use peripherals for all their project needs," said Andersen.



Mircom Group's unwavering commitment to North American manufacturing enables the company to offer the highest quality solutions together with excellent competitive value for the new FX-3500 Series. Mircom Group employs the latest tools and techniques in electronic hardware & software design and development in order to provide the high reliability, fault-tolerant control technologies.



Mircom(TM) branded products and services are supported by Mircom Engineered Systems (Mircom ES) branch office locations and a network of Engineered Systems Distributors in over 50 countries around the world. The new FX-3500 Series will further enhance Mircom Group's ability to service industrial, institutional and commercial markets where Mircom has been a trusted name for over 20 years.



To learn more about the FX-3500 Series, please visit - http://www.mircom.com/fx-3500



About The Mircom Group of Companies

Founded in 1991, the Mircom Group of Companies is North America's largest independent designer, manufacturer and distributor of intelligent building and life safety solutions. Reaching customers in over 100 countries worldwide, our portfolio includes: fire detection & alarm, communications & security, mass notification, nurse call, and building automation & smart technologies. Unwavering commitment to North American manufacturing enables Mircom Group to offer the highest quality and best competitive value across their vast range of solutions.



Press Contact:

Marsha Druker

Marketing Communications Specialist

888-660-4645 ext.3370



Web Site: http://www.mircom.com

More from Fluid & Gas Flow Equipment