Finishing System handles up to 2,000 lb of work per shift.
Press Release Summary: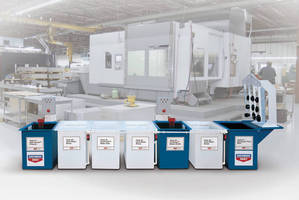 Utilizing two-stage oxidation, BC40 TRU TEMP® process forms black magnetite finish on all iron and non-stainless steel parts. It employs 7 individual tanks each 16 x 24 x 24 in. deep and occupies area of 3 x 15 ft. Constructed of 10 Ga welded steel (epoxy painted) or ½ in. welded polypropylene, system operates at 200°F with no splattering or boil over hazards and contains no EPA regulated chemicals.
---
Original Press Release:

Reduced, Finish Quality Improved for Iron and Steel Parts Using a New Birchwood Casey



BC40 TRU TEMP® Finishing Line - Ideal For Start Up Finishers And
Established Manufacturers

Eden Prairie, Minnesota: Part finishing time is easily reduced from days to just minutes while finish quality is improved using Birchwood Casey's new BC40 TRU TEMP® finishing system.

Utilizing a patented, two-stage oxidation, the TRU TEMP® process forms a black magnetite finish on all iron and non-stainless steel parts. Operating at 200° F, the process is safe to bring in-house and easy to manage, even for untrained personnel. The result is a non-dimensional, satin black finish that enhances the corrosion resistance and sales appeal of all types of tooling and machine components - with a 25-minute turnaround time.

"Start up finishers and established manufacturers have asked for a system and process that is very fast and produces high quality blackened parts without the problems and hazards of hot oxide," reports Mark Ruhland, vice president of Birchwood Casey. "This BC40 system is the answer for those starting a new blackening line and for manufacturers wanting to bring part finishing in-house."

An in-house BC40 TRU TEMP line offers major benefits over hot oxide finishing:
o The system operates at a safe 200° with no splattering or boil over hazards.
o The TRU TEMP process contains no EPA regulated chemicals. No waste treatment is needed, in most cases, so the initial capital investment is low.
o The black finish is ideal for tooling and machine components meeting Mil Spec MIL-C-13924C Class 1.

The BC40 TRU TEMP system is pre-engineered, sets up quickly, and handles up to 2000 pounds of work per shift. It utilizes seven individual tanks (each 16 x 24 x 24 inches deep) and occupies an area 3 x 15 feet. Tanks are ruggedly constructed of 10 gauge welded steel (epoxy painted) or ½ inch welded polypropylene and are supplied with all necessary heating elements and plumbing connections. A detailed owner's manual guides the user through assembly, charging with chemicals, startup, testing and troubleshooting - all with factory tech support from Birchwood Casey.

Want more information? Call 952-937-7931 for Free Brochure. Or write to Birchwood Casey, 7900 Fuller Road, Eden Prairie, Minnesota 55344-9702. Fax: 952-937-7979. Visit the Birchwood Casey website at www.birchwoodcasey.com Email: info@birchwoodcasey.com

More from Software