Finishing Outfit reduces hand-tool user fatigue.
Press Release Summary: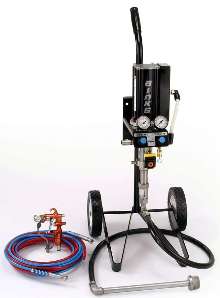 Flexibility of AA1500 Spray Gun, combined with adaptable capabilities of Raptor Series Pump, produces finishing system that maximizes efficiency and comfort while minimizing operator fatigue-related problems. Spray gun's component cartridge facilitates changeovers and maintenance. Pump, able to work with lacquers, enamels, stains, sealers, and top coats, sprays light- to heavy-viscosity materials.
---
Original Press Release:

Binks Raptor Pump and AA 1500 Gun Outfit Designed To Reduce Hand-Tool User-Related Fatigue


November 2004, Glendale Heights - Binks has combined the flexibility of its AA1500 Spray Gun with the adaptable capabilities of the Binks Raptor Series Pump; producing a finishing outfit that maximizes user efficiency and comfort, and minimizes operator fatigue-related problems.

The AA1500 Air Assisted Airless Spray Gun's component cartridge allows for quick and easy changeovers and maintenance. Its ergonomic design fits comfortably in the hand, weighs less and requires less trigger pull tension than comparable air assisted airless spray guns. The Raptor Series Pump works with lacquers, enamels, stains, sealers and top coats, and can spray light to heavy viscosity materials - making it one of the most flexible pumps in the industry.

Uniting these two products into one outfit provides the finishing professional with a highly efficient spray finishing combination. The Raptor Pump/AA 1500 combination also accommodates multi-application use; thereby reducing the risk of operator error, fatigue, and health risks associated with continual reconfigurations.

"CTD (Cumulative Trauma Disorder) is a real threat to hand tool operators, and can include damage to the hands, wrist, shoulders, neck & back," said Chuck Scott, Marketing Manager. "We're addressing the need to reduce the amount of repetitive work on the user's part through multi-application use of our guns and pumps. The combination of the AA1500 Spray Gun and the Raptor Pump directly addresses this growing concern."

Binks pioneered the development of liquid spray finishing technology over 100 years ago and continues to set the standards for industrial spray finishing. For further information about the Binks AA 1500 Spray Gun, Raptor Series Pumps, Raptor Spray Finishing Systems, or other Binks spray finishing or fluid delivery products, please call Customer Service at 1.800.992.4657 or visit the Binks website at www.binks.com.