Filtration Systems offer expanded size range.
Press Release Summary: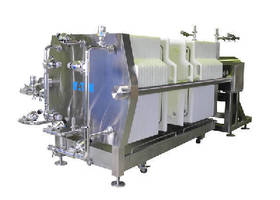 Available in 7.9, 15.7, 23.6, 31.5, and 39.3 in. sizes, BECO INTEGRA PLATE Filtration Systems deliver filter area from 0.6–1,227 ft², enabling process managers in fine chemical and pharmaceutical industries to scale systems from R&D lab applications through to commercial manufacturing processes. Hermetically enclosed systems consist of filter chassis with hydraulic compression and filter pack. Depending on filtration task, filter pack is made up of feed plates, filtrate plates, or cake frames.
---
Original Press Release:

Eaton Expands Its BECO® INTEGRA® PLATE Filtration System Range Enabling Process Managers to Scale Their Systems Easily



TINTON FALLS, N.J – Power management company Eaton has launched two new sizes of its BECO INTEGRA PLATE filtration system in response to customer demand. The system is now available in a small 7.9 in (200 mm) and larger 39.3 in (1000 mm) size, meaning that process managers in the fine chemical and pharmaceutical industries can scale their systems easily, from R&D laboratory applications through to higher batch volumes in commercial manufacturing processes.



The system is a hermetically enclosed plate and frame filter used in demanding filtration tasks enabling users to increase process efficiencies while guarantying safe, reproducible and economic filtration. The range has been expanded and is now available in five sizes – 7.9 in, 15.7 in, 23.6 in, 31.5 in and 39.3 in (200 mm, 400 mm, 600 mm, 800 mm and 1000 mm) – and delivers a filter area from 0.6 ft² up to 1227 ft² (0.056 up to 114 m2) to best fit customer application requirements.



"The new filter element sizes combined with our wide range of depth filter sheets means we can now offer increased flexibility to the user," said Mary Jo Surges, vice-president and general manager of the Eaton's Filtration Division. "The system can be adapted easily to best fit the filtration task and contribute towards optimized filtration processes."



The depth filtration system consists of a filter chassis with hydraulic compression and a filter pack. Depending on the filtration task, the filter pack is made up of feed plates, filtrate plates, or cake frames. BECO depth filter sheets are inserted between the filter elements and compressed, and the product channels of the filter elements are sealed via the BECO depth filter sheet. This ensures that only the filter element and the BECO depth filter sheet are in contact with the fluid and as a result prevents cross contamination.



The enclosed design of the system combined with the automatic hydraulic pressure regulation guarantees maximum safety for product and environment. In addition, it ensures accurate, repeatable and economical clean-in-place (CIP) practices meaning that process managers can continue to operate with the highest levels of cleanliness.



The unique filter element design provides optimized draining and filling of the filter. As such, there is no fluid loss and it produces a high product yield.



Eaton's BECO INTEGRA PLATE system is ideal for sheet filtration, pre-coat filtration or step filtration processes and the plates are available in polypropylene (PP) and polyvinylidene fluoride (PVDF), or stainless steel for the 15.7 in and 23.6 in (400 mm and 600 mm) sizes.



It is available with a number of options for maximum flexibility and to best suit the process needs, for example depth filter sheets with low endotoxin content, support sheets for cake filtration, activated carbon sheets, or sheets with reduced ion content, in particular calcium, magnesium and aluminum ions. As such, it is ideal for a wide variety of applications including blood plasma fractionation, diagnostics and control sera, filtration of active pharmaceutical ingredients and functional food ingredients such as sugar substitutes.



Eaton's devices also comply with national and international standards, directives and laws such as cGMP, FDA, EC, VDI, as well as internal client-specific regulations.



Eaton's Filtration Division is a leader in liquid filtration that can help companies improve product quality, increase manufacturing efficiency, protect employees and equipment, and help achieve sustainability goals. Eaton employees around the world make a difference for their customers by creating an exceptional customer experience, solving problems with application expertise and developing innovative filtration solutions. Eaton's filtration products are manufactured and sold worldwide. For more information, visit www.eaton.com/filtration.



Eaton is a power management company with 2014 sales of $22.6 billion. Eaton provides energy-efficient solutions that help our customers effectively manage electrical, hydraulic and mechanical power more efficiently, safely and sustainably. Eaton has approximately 102,000 employees and sells products to customers in more than 175 countries. For more information, visit www.eaton.com.

More from Packaging Products & Equipment