Filtration System suits cast iron and steel applications.
Press Release Summary: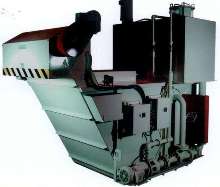 Convey-R-Vac permanent media drum filtration system removes chips and filters coolant in CNC metal cutting machine tool applications. Chips and particulate down to 25 micron collect on filter media surface and form filter cake. As cake builds on drum during filtration process, drum indexes 120° to allow majority of fine contaminates to peel from media surface and fall to bottom. There they are removed via scraper conveyor and discharged to scrap bin.
---
Original Press Release:

Jorgensen Conveyors' Convey-R-Vac Is The Only Effective Permanent Media Drum Filtration System for Difficult Cast Iron or Aluminum Machining Applications on CNC Metalcutting Machine Tools


Mequon, WI., September 1, 2004 - Jorgensen Conveyors has introduced the Convey-R-Vac, an innovative permanent media drum filtration system for chip removal and coolant filtration in CNC metal cutting machine tool applications. "The coolant is pulled through the media using a filter pump. This suction process allows fine chips and contaminants to collect on the surface of the filter media and form a filter cake", says John D'Amico, Vice President of Sales & Marketing for Jorgensen. This filter cake is integral in aiding in the filtering process. "Our competitors" gravity-type drum systems require the drum to move continuously for constant cleaning to maintain coolant flow rates, since gravity is the only means of flowing the coolant through the media. Without the use of a filter cake on the drum, their systems are not as efficient in filtering the coolant, says D'Amico.

With Jorgensen's Convey-R-Vac, the drum remains stationary as coolant is pulled through a suction header inside the drum. Periodically, as the cake builds on the drum during the filtration process, the drum will index 120 degrees allowing a majority of the fines contaminate to peel from the media surface and fall to the bottom. There, fines are removed via a scraper conveyor and discharged to a scrap bin. Any remaining fines entrained on the drum filter media are removed when it indexes in front of the internal backflush spray bar. The Convey-R-Vac can be designed to include a "pre-clean" conveyor to handle large volumes of stringy chips and curls.

According to D'Amico, this is truly a breakthrough product. "We have determined that this is the first truly effective permanent media filtration solution for difficult cast iron machining applications. Traditionally, indexing roll media filters have been used to effectively remove cast iron-fines from coolant. The downside of this process is that you are dealing with a continuous consumption of a contaminated non-woven filter media in your production."

The Convey-R-Vac is also effective in steel, aluminum and other applications. D'Amico says that using a filter cake in the process allows the system to remove particulate down to 25 micron. Systems are sized according to the coolant flow rate of the application, and can be integrated with high-pressure coolant, additional filtration and controls to provide a complete package. Jorgensen's Convey-R-Vac system will be on display at IMTS in their booth #D4618 in the Lakeside building at McCormick Place.