Filtration System produces directly sewerable effluent.
Press Release Summary: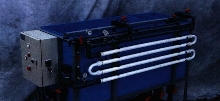 Model UF-300 Ultrafiltration System handles waste volumes of up to 300 gallons per day (GPD). Wastewater-disposal system allows for simple, continuous operation with minimal energy and operator involvement. It employs ½ in. tubular ultrafiltration membrane technology to separate water from suspended solids and emulsified oils, and reduces wastes by up to 98% without chemical additives. Features include polymeric membrane and skid mounts.
---
Original Press Release:
Ultrafiltration Systems UF-300

The Model UF-300 Ultrafiltration System is BRISTOL'S compact wastewater-disposal system designed for waste volumes of up to 300 gallons per day (GPD). This economical system allows for simple, continuous operation with a minimum of energy and operator involvement.

The Model UF -300 System employs half-inch tubular ultrafiltration membrane technology to separate water from suspended solids and emulsified oils, and reduce wastes by as much as 98 percent without the use of chemical additives. BRISTOL's innovative design allows the use of the UF-300 for high-solids applications without messy and expensive prefiltration producing, in most cases, a directly sewerable effluent and dramatically reduced waste-disposal costs.

The Model UF-300 is shipped pre-piped and pre-wired for easy installation. Optional casters allow for complete mobility. Primary applications for the Model UF-300 System include waste minimization of:

- Aqueous Parts Washer Solutions

- Metalworking Coolants

- Vibratory, Burnishing and Deburring Wastes

- Mop Water

- Food Processing Wastes

- Air Compressor Blowdown

- Printing Press Washwater

- High BOD a COD Effluent Streams

UF-300 SYSTEM

Features

- High-tech polymeric membrane is highly insensitive to chemical and concentration changes in the waste feed stream.

- Half-inch tubular membrane allows processing of high-solids waste.

- System operates in batch or optional continuous mode.

- Skid-mounted unit installs easily in the plant.

Benefits

DIRECT COST SAVINGS

- Reduced waste volume saves on disposal costs.

- Simple operation saves on labor costs.

- Extremely low operating costs.

ENVIRONMENTAL BENEFITS

- Positive membrane barrier ensures consistent effluent quality.

- Lower waste volumes reduce environmental liability

- Low-pressure, nonchemical system in safe to operate.

VALUABLE TIME SAVINGS

- Unattended operation and limited maintenance save man-hours.

- Less storing, monitoring, and hauling away of wastewater.

General Specifications

The UF 300 Systems is skid-mounted, pre-piped, and pre-wired to machine tool codes. The motor is TEFC, all gauges are liquid-filled.




DIMENSIONS:      85 in.(L) x 35 in. (W) x 66 in.(H)

WEIGHT:          450 lbs.

PROCESSING RATE: 300 GPD (not expanded)

                 500 GPD (optional expansion)

TANKS:           Polypropylene construction, rectangular, consisting of 167-gallon
                 process, 34-gallon rinsing and 34-gallon cleaning compartments

MOTOR:           3 HP TEFC

CONTROL PANEL:   NEMA 12 enclosure

pH RANGE:        2-12

TEMPERATURE:     120 degrees F (max.)

ELECTRICAL:      10 amp @ 230V, 3 PH, 60HZ

                 5 amp @ 460V, 3 PH, 60HZ

WATER:           5 psi, 5 GPM (Flush Tank)

OPTIONS:         Expansions to 500 GPD




UF-300 Operation Summary

1. Wastewater enters the process tank.

2. Wastewater passes through a strainer which protects the pump.

3. The liquid is continuously pressure driven across the semi-permeable UF membrane where emulsion dewatering occurs.

4. Clean water is continuously discharged from the system.

5. Waste material rejected by the membranes is recycled.

6. Concentrated waste is periodically removed for disposal.

BRISTOL PURE SYSTEM
Coolant / Oil Recovery For Small Fluid Volumes

Bristol Pure Recovery Systems are Bristol Internationals Smallest, most economical system. These modularly designed systems offer the Bristol International guarantee for high quality " like new" fluid. Based on the Integrated Fluid Recovery ( IFR ) principle of high speed three phase centrifugation working in concert with other components, such as precise feed pumps and heaters, to remove all solids, tramp fluids, odors and control biological activity; the Bristol Pure system provides its users with total fluid recovery! These unique systems allow for coolant and / or oil purification and can be operated at fixed or remote location. Models are available in fluid processing capacities of 50 to 1500 Gallons per hour. Some of the modular options include a self-cleaning centrifuge, Heat Pasteurization, Heat Exchangers, Processing Tanks and Portable Systems mounted on wheels. Other applications for Bristol Pure systems have included kerosene recovery, rinse water purification, and alkaline parts washer recovery.

System will process:
Coolant 3 gpm / Oil 4 gpm

Most metalworking plants use some type of coolant in their machining, grinding, forming, or other production operations. These fluids function to remove heat, lubricate, clear the workface of chips and swarf and control corrosion.
More from Laboratory and Research Supplies and Equipment