Filtration System is suited for machine tool industry.
Press Release Summary: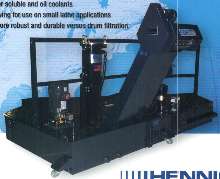 Utilizing disc filter technology, CDF Chip Disc Filtration System provides continuous, self-cleaning operation with flow rates to 1,100+ gpm. It employs backwash nozzles that continuously spray filtered coolant against stainless steel media. Low profile system utilizes 2-stage filtration (3-stage optional) and filters water-soluble and oil coolants. Design provides direct flow path into coolant tank reservoir.
---
Original Press Release:

Coolant Filtration for the Machine Tool Industry


Hennig, Inc., Machesney Park, IL announces the new CDF Chip Disc Filtration System, featuring:

o affordable, innovative disc filter technology
o continuous self-cleaning operation, ease of maintenance
o long-life, permanent filtration media
o wide application versatility
o low profile system design accommodates smaller machines

The Hennig CDF system is made up of a hinged conveyor belt that transports chips and acts as the first stage filter. The rotating disc, with permanent media, provides second stage filtration. An optional Chip Catch II removes any fine particles clinging to the conveyor belt as a third stage filter.

Innovative design provides a direct flow path into the coolant tank reservoir. It will filter a wide variety of materials, both in water-based and oil coolants. Efficient coolant backwash needs no outside source such as steam or air. Backwash nozzles continuously spray filtered coolant against the stainless steel media. The strength of the filtration media allows it to handle both momentary or continuous heavy chip loads.

Ease of maintenance minimizes downtime. Replaced media can be disposed along with chips and does not become a hazardous waste.

Free brochure available upon request.

Hennig, Inc.
9900 North Alpine Road
Machesney Park, IL 61115
815-636-9900
www.hennig-inc.com