Filtration System enables continuous on-line flow.
Press Release Summary: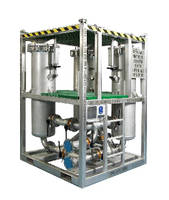 With absolute-rated performance from 1-70 µ, Cuno High Flow Triplex Skid is suitable for filtration of small to medium volumes of fluids ranging from 200-20,000 bbl in both deck-side offshore and onshore applications. System houses 3 vessels and each 6½ dia x 40 in. long cartridge provides 13 m² filtration area, resulting in total of 117 m² effective filtration area. Measuring 2.72 m², skid offers 99 kg total dirt loading capacity and connection to standard 4 in. service pipework.
---
Original Press Release:

Continuous On-Line Flow Offered by New Compact Cuno Filtration Triplex Skid from 3M



Bracknell, UK, 12 March 2009: 3M's Oil & Gas business in the UK today announced the launch of a new compact DNV 2.7-1 rated Cuno High Flow Triplex skid. Available for trial, rent or purchase it is suitable for the filtration of small to medium volumes of fluids (200bbl to 20,000bbl) in both deck-side offshore and onshore applications with absolute-rated performance ranging from 1µ to 70µ.

Its unique, three-vessel design offers increased run options - three vessel sequential, parallel or individual vessels - providing increased operational flexibility including constant on-line capability to eliminate rig downtime. Continuous flow is achieved by isolating the blocked vessel for cartridge changeout whilst re-directing the flow through one or both of the other two vessels. The three-vessel system also allows staged filtration and sharing of dirt load to maximise performance.

Designed to enable service organisations to provide oil companies with considerable savings in both time and money compared to the equivalent-sized duplex skid, the 3M Triplex Skid offers: 99Kg total dirt loading capacity; single-handed cartridge changeouts in only five minutes per vessel and connection to standard 4" service pipework - all in a 2.72m² footprint/industry standard sized skid weighing just 1.7metric tonnes.

Although the new 3M Triplex Skid houses three vessels, it uses fewer cartridges than a conventional duplex skid (9 x 6½" diameter cartridges compared to 100 x 2½") resulting in reduced transport, labour, storage and disposal costs. Each 6½" diameter x 40" long Cuno High Flow cartridge provides 13m² effective filtration area, resulting in a total of 117m² effective filtration area in the skid: 15 to 20 per cent more than a conventional duplex skid.

Due to its high performance, the 3M cartridge-based Triplex skid also breaks into plate and frame territory, yet when compared to such solutions, it occupies just one tenth of the operational footprint of plate and frame units for a given flow rate.

Operational opportunities for the new skid include: treatment of waste waters recovered for drill cuttings processing and generated from pit clean-ups; conditioning brine fluids used for well bore completion and well kill operations; and filtration of seawater prior to well test operations and used in well bore completions.

Innovation at the heart of the system

3M innovation is at the heart of the Cuno High Flow filter. A unique compound radial pleat design maximises the usable surface area per filter. Blown micro-fibre forms the basis of the filter media, which is made to tightly controlled fibre diameter specifications to produce a media with absolute-rated particle retention characteristics. The unique manufacturing process embosses the media to produce a more uniform pleat pattern which, in turn, allows a greater utilisation of the media by evenly distributing the fluid throughout the entire filter structure. This results in consistent particle retention in a compact, space-saving design.

Environmental responsibility

In addition to providing operational flexibility and time/cost saving benefits, the new Triplex skid is just one example of 3M's commitment to environmental responsibility. The Triplex High Flow Filtration system is designed to help users meet the ever-tightening waste legislation and to reduce land-fill.

Part of a Cuno range from 3M

The new Cuno High Flow filtration system joins a range of filtration products and services offered by 3M's Oil and Gas business.

The 740B High Capacity cartridge is 7" in diameter and 40" long, providing up to 16m2 of filtration area in a single cartridge, and has an established pedigree in water injection and completion fluids treatment.

The recently launched PolyKLEAN polypropylene filter has a rigid, core-less, filter structure that tolerates fluctuations in operating conditions - including contaminant loading and differential pressure. Oil and Gas applications include filtration of Amine, Glycol, process cooling water, and completion fluids.

The Cuno Scientific Application Support Service (SASS) is staffed with scientists who help to optimise customers' process purification and separation requirements. SASS staff offer technical oversight for Cuno's large installed customer base and can assist in grade selection and on-site evaluations. Filter system optimisation can also be conducted at Cuno's laboratory facilities.

3M and Cuno are trade marks of 3M

3M - practical and ingenious solutions that help our customers succeed

3M is a $25.3 billion diversified technology company which, since 1902, has been creating innovative products that help make the world healthier, safer and more productive. Well known 3M brands include Scotch, Post-it, Scotchgard, Thinsulate and Scotch-Brite.

3M employs some 75,000 people worldwide, producing thousands of innovative products for customers in dozens of diverse markets in 200 countries. Its 45 technology platforms touch nearly every aspect of modern life - the company has applied its expertise in RFID technology to deliver biometric passports; it is using its understanding of the healthcare industry to provide hospitals with infection prevention and detection solutions; and in 2008 it launched the world's first hand-held micro projector, the MPro110.

The UK and Ireland is home to one of the largest 3M subsidiaries outside the USA, employing more than 3,500 people across 16 locations, including 12 manufacturing sites.

Products manufactured in the UK include coated abrasives, occupational health and environmental safety equipment, adhesive tapes, industrial microbiology products, drug delivery systems, high-performance coatings, secure documents and passport scanners.

3M's involvement in the Oil and Gas industry

For more than 50 years, 3M has been meeting the evolving needs of the Oil and Gas industry. Globally, the company supplies some 10,000 products that are used in all aspects of the industry, from exploration, production and refining through to transportation and retail.

In the UK, 3M's Oil and Gas business has a team of highly experienced specialists, based both in Aberdeen and at our head office in Bracknell, Berkshire. Their role is to focus on the specific requirements of our UK-based customers. However, while our presence is local, our resources are global. 3M employs some 6,500 researchers and, with laboratories in 35 countries, we have the means to meet the industry's toughest challenges.

3M Centre, Cain Road, Bracknell, Berkshire, RG12 8HT, United Kingdom

Customer enquiries telephone: 0845 607 6648

www.3Moilandgas.co.uk

More from Electrical Equipment & Systems