Filter Media suits high-volume painting operations.
Press Release Summary: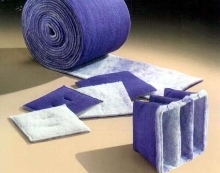 Suitable as primary media or 2nd stage product, Ultra Media features graduated denier fiber construction, needled back layer, and face design engineered to load liquid and solid paint overspray. Media is compatible with range of commercial and industrial paints, including high solids, solvent-based and water-based paints, and clear coats. It handles high solids and water-based paints with average removal efficiency of 99.76% and 99.74%, respectively.
---
Original Press Release:
Paint Dept. Filter Media Reduces Facility Maintenance

Ottawa, KS April 11,2005. Ultra Media is a high-efficiency filter media designed for high-volume painting operations. Ultra Media combines high "capture" efficiency with high paint-holding capacity. It keeps stacks, equipment motors (and parking lots!) free of paint, and is usable as a primary media or a 2nd stage product. It was created for use in aerospace manufacturing, wood finishing, tier 1/2 automotive and general metal finishing.

Ultra Media is compatible with a wide range of commercial and industrial paints, including high solids, solvent-based and water-based paints and clear coats. Performance for two common coatings types is as follows:


Paint Type     Air Flow      Initial Static Resist.    Avg. Removal Efficiency 

High Solids     150 FPM           05" WG                  99.76%

Water-based     150 FPM          .05" WG                  99-74%


Ultra Media has graduated denier fiber construction, a high-efficiency needled back layer, and a face design engineered to load liquid and solid paint overspray for highest holding capacity. Ultra Media is a high integrity, high performance paint overspray media.

Ultra Media is available in bulk rolls, pads, panels, link panels, and multi-pocket bags. Ultra panels and multi-pocket bags are available in made-to-order sizes. ATI will perforate Ultra blankets to accommodate any booth size at no additional charge.

ATI manufactures a complete line of overspray collection systems that keep motors, fans and ducting clean. ATI also specializes in NESHAP-compliant, multi-stage overspray systems for new and existing booths. Air Technologies, Inc. Ottawa, KS 800-624-8739 www.ati-filters.com
More from Packaging Products & Equipment