Filter Dryer protects compressed air systems.
Press Release Summary: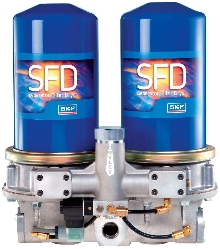 SFD (Separator Filter Dryer) Dryer System is engineered with dual-cartridge desiccant dryer system that removes oil, contaminants, and water from compressed air systems. It channels air flow through one cartridge while the other regenerates. Each unit contains internal oil separators that protect downstream pneumatic components. Integrated design facilitates installation and maintenance and requires no additional external filters.
---
Original Press Release:

SKF Introduces New Technology for Compressed Air Systems


ELGIN, IL - SKF recently introduced the SFD (Separator Filter Dryer) Dryer System to its full line of specialty aftermarket products, designed to enhance the performance of compressed air systems. The SFD Dryer System meets the demands of several industries that utilize compressed air, including automotive refinishing/collision repair, cement/construction, and various "point of use" manufacturing applications, including SKF's own plants.

The SFD features a regenerative desiccant dryer system designed to remove oil, contaminates and water from compressed air systems. Each unit contains internal oil separators engineered to extend the unit's service intervals and reduce operating costs by protecting downstream pneumatic components. Additionally, the unit's compact and integrated design allows for easy installation and maintenance, and requires no additional expensive external filters for successful operation.

"With the introduction of the SFD, SKF has the ability to offer a product solution to various markets - from automotive and construction to printing presses and medical equipment," says Tom Mahoney, Program Manager/SFD, SKF. "The technology incorporated into the SFD provides manufacturers, distributors and end users with a clear technical edge over any other specialty air dryer product in the market."

Engineered with two desiccant cartridges, the SFD Dryer channels air flow through one cartridge while the other regenerates, typically using less than 10% whereas most other air dryers consume up to 20%. Installation is easy, requiring two connections - an inlet and outlet port - along with simply plugging the unit into a 110 volt electrical outlet.

SKF Air Dryer technology has been proven effective within harsh environments in other markets for many years. The SFD Dryer System technologies - designed to prevent corrosion, contamination or water ingression - ultimately reduce operating and maintenance costs.

For more information on the SKF SFD Dryer System, contact Tom at 800-323-8024, extension 4006, or customer service at 800-882-0008.

SKF is the leading global supplier of products, customer solutions and services in the business of rolling bearings and seals. Headquartered in Gothenburg, Sweden, SKF has technology centers in the Netherlands, Italy and the United States. SKF is a worldwide supplier of roller bearings, radial shaft seals, precision-engineered elastomeric products, and related products and services to the automotive, aerospace, heavy-duty/off-highway, industrial and marine industries.

March 10, 2005

For more information, please contact:

Katie Noga, Marketing Communications and Motorsports Manager, SKF, 800-323-8024 x4471 Katie.l.noga@skf.com

More from Communication Systems & Equipment