Filter Cartridges utilize nanofiber technology.
Press Release Summary: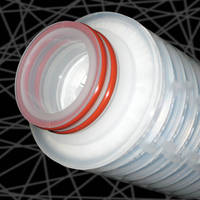 With ability to filter both through electro-adhesion and mechanical processes, Nano-Key(TM) filter cartridges feature ceramic nanofibers on micro-glass matrix, providing reduction of virus, bacteria, cysts, endotoxin and other submicron particles. They are available either as standard 2¾ in. dia single layer cartridges or multi-layered GIANT® 4½ in. dia cartidges. Filters come in standard or carbon version; carbon version removes humic compounds and reduces total organic compounds.
---
Original Press Release:

Nano-Key(TM) Advanced Nanofiber Filter Cartridges



Nano-Key(TM) filter cartridges provide the cutting edge in water and wastewater filtration by utilizing advanced nanofiber technology to filter both through electro-adhesion and mechanical processes. Nano-Key(TM) cartridges, which feature ceramic nanofibers on a micro-glass matrix, provide outstanding reduction of virus, bacteria, cysts, endotoxin and many other submicron particles.

Additional Features Include:

o Pure-polypropylene support components

o Standard 2-3/4" dia. single layer cartridges or unique multi-layered GIANT® 4-1/2" dia. cartidges

o Single open end (SOE) with 222 silicone O-rings standard for all sizes; other configurations available

o Standard or carbon version of Nanomedia are available

o Efficency equal to or better than polymeric UF/MF membranes with much higher flow and much lower cost and pressure drop

o Carbon version removes humic compounds and reduces total organic compounds (TOC)

Potable water applications for the Nano-Key(TM) filter cartridges include RO pre-filtration, beverage bottling and agriculture. Industrial and wastewater applications include industrial water, semi-conductor, pharmaceutical and wastewater treatment.

For more information, visit our web site at www.keystonefilter.com/html/nanokey.htm

or

contact:

Keystone Filter, Met-Pro Corporation

2385 North Penn Road,

Hatfield, Pennsylvania 19440

Telephone: (800) 822-1963;

FAX (215) 997-1839

E-mail: filters@keystonefilter.com

More from Electronic Components & Devices