Filter Bags provide absolute filtration.
Press Release Summary: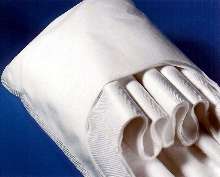 Made from 100% pure polypropylene materials, LOFCLEAR(TM) bags are compliant with food requirements and contain no leachables or lubricants. Effective in removal of gelatinous materials, bags also absorb oil. Series 100 bags incorporate multi-layer design with efficiencies greater than 99% and dirt capacities up to ½ lb. Series 500 bags utilize all welded, multi-pleated construction, with 4 efficiency ratings from 95-99% and dirt-holding capacities of over 2 lb.
---
Original Press Release:

New Cost-Effective Filter Bags Meet Absolute Filtration Needs


Absolute filtration is now a viable option in many applications where, to date, cost constraints dictated the use of standard, less effective bags. The new LOFCLEAR(TM) filter bags from Hayward Industrial Products, Inc. provide affordable absolute filtration in a wide range of applications.

Made from 100% pure polypropylene materials, LOFCLEAR(TM) bags are compliant with food requirements and contain no leachables or lubricants such as silicone oils that can contaminate the process media. The have proven to be exceptionally effective in the removal of gelatinous materials and their excellent oil absorbency makes these new filter bags ideally suited to the oil removal needs of the paint and coatings industries among others.

LOFCLEAR(TM) bags are available in two styles, Series 100 and Series 500. The styles differ in efficiency range, making it possible to match the requirements of a wide range of applications without additional cost.

The Series 100 is a multi-layer design, intended for applications where high efficiency is of prime importance. They feature efficiencies greater then 99% over a wide range of particle sizes with dirt capacities up to 1/2 pound.

The Series 500 designs use a patented, all-welded multi-pleated construction to increase surface area, and they are offered in four different efficiency ratings making it possible to match the filter to a particular filtration need. Filtration efficiencies range from 95% to 99% and their dirt-holding capacity of over 2 pounds make them well suited to applications requiring high dirt capacities and long life.

Applications of LOFCLEAR(TM) Series 100 Filter Bags will include systems circulating high-purity fluids with low particulate concentrations, or for first-pass guard filtration, oil adsorption and activated carbon removal. The Series 500 will be used in the filtration of oils, slurries, dilute oil removal, re-circulating batch systems and systems with heavy contamination.

All LOFCLEAR(TM) Filter Bags feature the patented SENTINEL® sealing ring that helps insure a perfect seal between the bag and filter vessel to prevent the process media from by-passing the filter bag and are available in both single and double length sizes and fit into most standard bag filter vessels.

For more information, contact Don Treslar, Hayward Industrial Products, Inc., 900 Fairmont Ave., Elizabeth, NJ 07207. Phone: 908-351-5400 Ext. 2213. Fax: 908-351-7893. E-mail: industrial@haywardnet.com. Website: haywardindustrial.com

Related