Filter Assembly protects laser gas supply.
Press Release Summary: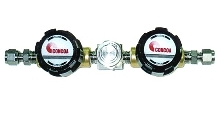 Series 580-6001 provides 2.0 micron filtration and is suitable for all laser systems using helium, nitrogen, carbon dioxide, and/or premixed resonator gases. Assembly, with stainless steel body, connects directly to gas inlet on laser. It includes stainless steel compression-tube fittings, stainless steel filter element, and shut-off valves. Filter element can be replaced by removing locking cap assembly, without needing to remove entire assembly.
---
Original Press Release:
New Micron Filter Assembly Provides Added Security For Laser Gas Supply

Designed for Laser Resonator Gases in CO2 Industrial Laser Use

May 1, 2002 - Virginia Beach, VA - A new unique filter assembly system designed specifically for laser resonator gases used in C02 laser materials processing has been introduced by CONCOA.

The 580-6001 Series Filter Assembly is ideal for all laser gas systems utilizing helium, nitrogen, carbon dioxide, and/or premixed laser gases for connection directly to the gas inlet on the laser. Advanced features include 2.0-micron filtration, replacement filter element, and high integrity diaphragm isolation shut-off valves, offering consistent reliability and low-cost maintenance with protection from possible particulate contaminations in the gas stream.

Designed to meet the needs of varied individual laser gas systems, the filter assembly is equipped with stainless steel compression tube fittings for ease of installation. The filter element can be replaced, if required, by removing the locking cap assembly and the saturated filter element without needing to remove the entire assembly.

Constructed for high-purity, low-flow use, bodies are made of stainless steel barstock; filters are 0.2-micron sintered stainless steel. The working pressure range is 0-200 PSI, suitable for all laser gas pressures.

Certified ISO 9001, CONCOA manufactures a complete quality line of gas pressure and flow control equipment and delivery systems for worldwide medical, industrial, and specialty gas applications as well as distribution equipment for laser materials processing. The 580-6001 Filter Assembly is among the company's laser gas pressure control products registered in all Canadian provinces (CRN OH 5216.5C). For more information or a full-line catalog, call 1-800-225-0473 (U.S.), 31-30-2672-303 (Europe), or visit the CONCOA Web site at www.concoa.com.

More from Adhesives & Sealants