Film Splicing Systems target packaging industry.
Press Release Summary: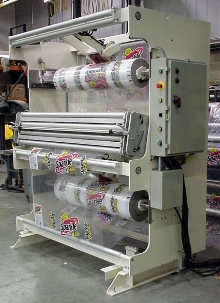 Featuring shrink-sleeve splicer design, Series SP-1 utilizes heat seal technology with splice heads that create butt splices for applications such as frozen food and baked good packaging. Mini-dancer provides tension control on intermittent motion baggers, minimizing packaging material and allowing operation of older equipment. Providing non-stop operation, splicers are suited for companies implementing lean and make-to-order manufacturing operations.
---
Original Press Release:

Butler Automatic Launches Next Generation of Automatic Film Splicing Systems for the Packaging Industry


Series SP-1 Splicer Increases Line Productivity Up To 15%, Pays Back in Under 6 Months

MIDDLEBOROUGH, MASSACHUSETTS, USA, November 15, 2004 -- Butler Automatic Inc., a leading global manufacturer of automatic web splicers, today introduced its next generation of automatic film splicers designed specifically for the non-stop production needs of the packaging industry. The Series SP-1 and SP-1W systems incorporate new features and applications that increase line productivity by up to 15% and pay back in less than 6 months.

"Food, beverage, and pharmaceutical companies with manual film unwinds in their packaging lines are overlooking one of the last significant opportunities to boost productivity and reduce costs," said Andrew Butler, president, Butler Automatic. "Manufacturers can accelerate overall output, reduce waste, and support lean manufacturing efforts by installing our new automatic film splicing systems."

Butler Automatic recently was granted U.S. patents for the Series SP-1's unique loading, swing-out shaft, web guiding technologies, and other features. The system incorporates new designs specifically for packaging operations:
o A new shrink-sleeve splicer design achieves up to a 20% line output increase for users of the rapidly expanding shrink-sleeve packaging technology
o Heat seal technology with new splice heads creates a sellable butt splice for applications such as frozen food and baked goods packaging
o A new mini-dancer provides maximized tension control on intermittent motion baggers, allowing reduced packaging material costs and operation of older equipment
o An all-stainless steel version will be shipped in spring 2005 for dairy, meat, and poultry applications where caustic washdown and FDA certification are required.

"With more than 15,000 units installed in many industries worldwide, our SP-1 film splicing system offers proven, low-risk technology that is easily applied to packaging applications," said Butler. "Its simplicity and few moving parts, combined with our knowledge of the packaging process, makes it easy to install, inexpensive to maintain, and highly reliable to operate."

Initial Series SP-1 customers report attractive gains in productivity and performance. A New England food processor achieved a 6% increase in production line output and a 14% reduction in waste with a payback of 4 months. A California fruit company experienced a 7% line output boost with a 3 month payback.

Butler said the technology is ideally suited for companies implementing lean and make-to-order manufacturing operations to meet supermarket demands for frequent deliveries. "By eliminating roll changeover time, the SP-1 Series can support short, frequent, packaging runs and avoid the disruptions, downtime, and waste caused by ever shorter make-to-ship production." he said.

Manual roll changes on existing packaging lines often lead to long setup times and inconsistent fill and seal at start up. Automatic splicing increases packaging output and consistency by reducing the need to reconfigure after roll changes. This allows continuous production and efficient changeover between quantities and products. "The non-stop operation often results in significantly less film and product waste, particularly through adding consistency to the upstream processes," Butler said.

The Series SP-1 splicing solution is available for immediate shipment and includes a customer care program that provides 24-hour support, 365 days per year.

About Butler Automatic
Butler Automatic, Inc. is a leading global manufacturer of automatic web splicers. Founded in 1956, the company invented zero-speed splicing technology. Its automatic film splicers utilize proven technology to achieve seamless, nonstop production in web-fed processes. The company is based in Middleborough, Massachusetts, USA, and has European headquarters in St. Pierre-en-Faucigny, France. For more information, contact 508-923-0544 or visit www.butlerautomatic.com.

More from Machinery & Machining Tools