Film Sealer handles surface irregularities up to 2 in.
Press Release Summary: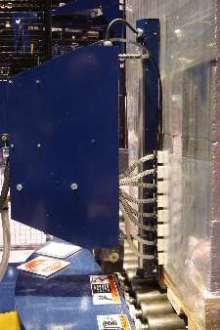 De-Tailer stretch film sealer conforms to load surfaces and positively seals film tail with hot air before cutting and wiping for clean, tight wrap. It accommodates loads of varying width within range of 24 in. by providing 12 in. reach-to-load. Surface-seeking sealer head allows 8 nozzles to individually find load surface and direct air ranging from 200-230°F at film tail. No heat is transferred to product and all heating elements are fully guarded.
---
Original Press Release:

New Hot-Air Stretch Film 'De-tailer' Handles Surface Irregularities up to 2 Inches - Never Needs Cleaning, Retrofits to Existing Automatic Stretch Wrappers


Seals film tail before cutting for tight, positive load control during handling/shipping

July 2004 - Lantech's new De-Tailer hot-air stretch film sealer conforms to load surfaces with irregularities up to two inches high, and positively seals the film tail with hot-air, before cutting and wiping, for a clean, tight wrap that won't droop or snag. Operating at temperatures 150°F lower than conventional bar and pad sealers, the patented system improves safety and eliminates melted film build-ups that require cleaning. It will be demonstrated at Pack Expo in Chicago this fall. The standalone system easily retrofits to existing Lantech automatic stretch wrappers, and lists for approximately $9000.00.

"As warehouse/DC's become more automated, stretch-wrap film tails become a greater danger and nuisance," says William Caudill, Lantech Product Manager for Automatic Systems. "Film tails can cause loads to snag, photoeyes to misread, or loads to unravel during shipping. The Lantech seal head is unique in its ability to adapt to uneven load surfaces, and because the film tail is sealed before cutting, wrap tension is maintained throughout handling and shipping."

Lantech's new film sealer easily accommodates loads of varying width, within a range of 24", by providing a full 12" reach-to-load. The surface-seeking sealer head allows its eight independent nozzles to individually find the load surface and direct hot air (200-230°F) at the film tail. No heat is transferred to the product, and the system produces heat only during the sealing cycle, improving operator comfort and eliminating risk of product damage. All heating elements are fully guarded.

The system operates effectively in most environments, including freezers to -20°F. It integrates with the cut/wipe arm of the wrapping machine, and is available on Lantech Q-1000 automatic turntable and S-3500 automatic straddle stretch wrapping systems.

Lantech's packaging and productivity solutions include semiautomatic and automatic stretch wrapping; automatic case handling; automatic palletizing; shrink packaging and pallet-load conveying systems. Lantech is the originator of stretch wrapping technology and world's largest manufacturer, with 50,000 systems placed around the world. Headquartered in Louisville, Kentucky, with manufacturing operations in the U.S. and the Netherlands, Lantech products are sold and serviced by a network of 175 distributor locations. Visit the Lantech website at www.lantech.com for more product information.

More from Electrical Equipment & Systems