Fill and Seal System handles liquid and viscous food.
Press Release Summary: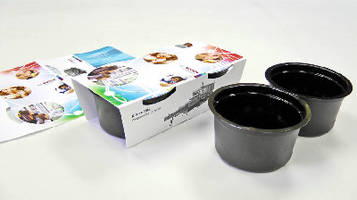 Designed to address demand for containers in wrap-around cartons, integrated solution includes Osgood S-series fill and seal machine which is 3-A Sanitary Standards compliant. Tank-style pump and smooth movement ensure accurate filling, even at speeds up to 1,000 containers/min. Kliklok-Woodman Certiwrap Elite wrap-around cartoner handles liquid and viscous foods in cups, or other rigid containers, which are arranged singularly or in multiples in carton at speeds up to 400 cartons/min.
---
Original Press Release:
Bosch Launches Integrated System Solution for Liquid and Viscous Food
Newest members to the Bosch family combine hygienic design and appealing pack results
Efficient fill and seal equipment for pre-made containers reduces downtime
Eco-friendly wrap-around billboard effect with minimal material use
Extensive service network in North America for customer convenience
Chicago, United States – At PACK EXPO International 2016, Bosch Packaging Technology will debut its integrated system solution for liquid, viscous and pumpable foods. The result of the close cooperation between the latest member of the Bosch family in North America – Osgood, the manufacturer of fill and seal machinery for pre-formed containers, and Kliklok-Woodman, the supplier of vertical form, fill and seal (VFFS) machines and secondary packaging equipment – is a complete system solution to address the growing market demand for containers in wrap-around cartons. At the show, Bosch will run live demonstrations of a solution, packing two yogurt cups in a cost-efficient wrap-around carton.

"One of the key benefits of being a part of the Bosch Group, is the ability to mix and match primary and secondary packaging offerings to create truly unique solutions, which answer specific market and consumer needs," said Janet Darnley, director of marketing and product manager secondary packaging at Bosch Packaging Technology (Kliklok-Woodman). "The liquid food system we are presenting at PACK EXPO International this year is testimony to such cooperation, offering our customers' trouble-free integration straight into their existing production setups."

"It is all about customer convenience and satisfaction," added Jonathan Viens, manager of North American sales and marketing, Bosch Packaging Technology (Osgood Industries). "In addition to the streamlined, easy-to-operate and hygienic system solution, our customers now benefit from Bosch's extensive service network in North America."

Hygienic and accurate container filling 

The system's first element is the Osgood S-series fill and seal machine, recognized for its hygienic design with fewer areas that might trap food residues and thus complicate the cleaning process. The machine is 3-A Sanitary Standards (3-A SSI) compliant, meaning that the product is hygienically handled throughout the filling and packaging process, safeguarding both product and brand. The innovative O-ring-free pistons further decrease cleaning-in-place (CIP) time and eliminate the risk of product recalls, normally caused by O-rings falling into the product during filling.

Osgood's tank-style pump and smooth movement allows for equal product distribution on each of the lanes with negligible variations between cups, ensuring accurate filling, even at speeds of up to 1,000 containers per minute. As a result, liquid food manufacturers can minimize material waste and ensure consistent filling levels of their product. Furthermore, the S-series employs a servo-driven indexing filler, adjusted depending on the viscosity of the product to control splashing, foam and froth.

Sustainable and economical wrap-around cartons

The new Certiwrap Elite wrap-around cartoner from Kliklok-Woodman offers an economical secondary packaging solution that uses less paperboard material, without compromising on shelf appeal. The Certiwarp Elite is ideal for liquid and viscous foods in cups, or other rigid containers, which are arranged singularly or in multiples — even stacked — in a cost-effective carton at speeds of up to 400 cartons per minute depending on pitch.

The Certiwrap Elite's hygienic design combines an all-stainless steel frame, easy accessibility, high visibility and sanitary construction for simplified cleaning, to ultimately reduce downtime. Total walk-in access for maintenance through the solution's safety doors further enhances ease of operation and increases uptime. The machine's insight color touch screen HMI, enables automatic programming, the elimination of operator errors and ensures consistent performance – regardless of the shift or operator skills.

Coupled with the Osgood S-series fill and seal machine, the Certiwrap Elite wrap-around cartoner offers North American liquid food producers a complete system solution specifically developed for this market segment with hygiene, ease of use and an appealing pack style at its core.

To learn more about all of our solutions and attend live demonstrations, visit Bosch at PACK EXPO International in Chicago, Illinois, from November 6 to 9, 2016, South Hall, booth S-3514.

Contact:                                                         
Janet Darnley,                                                
phone: +1 770-981-5200                               

Jonathan Viens,
phone: +1 813-855-7337

Contact person for press inquiries:
Jela Grubesa,
phone: +49 711 811-58507

Based in Waiblingen near Stuttgart, Germany, and employing 6,200 associates, the Bosch Packaging Technology division is one of the leading suppliers of process and packaging technology. At over 30 locations in more than 15 countries worldwide, a highly-qualified workforce develops and produces complete solutions for the pharmaceuticals, food, and confectionery industries. These solutions are complemented by a comprehensive after-sales service portfolio. A global service and sales network provides customers with local points of contact. Additional information is available online at www.boschpackaging.com

Having established a regional presence in 1906 in North America, the Bosch Group employs some 31,000 associates in more than 100 locations, as of December 31, 2015. In 2015, Bosch generated consolidated sales of $14 billion in the U.S., Canada and Mexico. For more information, visit www.boschusa.com, www.bosch.com.mx and www.bosch.ca..

The Bosch Group is a leading global supplier of technology and services. It employs roughly 375,000 associates worldwide (as of December 31, 2015). The company generated sales of 70.6 billion euros in 2015. Its operations are divided into four business sectors: Mobility Solutions, Industrial Technology, Consumer Goods, and Energy and Building Technology. The Bosch Group comprises Robert Bosch GmbH and its roughly 440 subsidiaries and regional companies in some 60 countries. Including sales and service partners, Bosch's global manufacturing and sales network covers some 150 countries. The basis for the company's future growth is its innovative strength. Bosch employs 55,800 associates in research and development at 118 locations across the globe. The Bosch Group's strategic objective is to deliver innovations for a connected life. Bosch improves quality of life worldwide with products and services that are innovative and spark enthusiasm. In short, Bosch creates technology that is "Invented for life."

Additional information is available online at www.bosch.com,  www.bosch-press.com,  twitter.com/BoschPresse
Related