Sensors / Detectors / Transducers
Fiberoptic Sensor Amplifier has dual digital display.
Press Release Summary: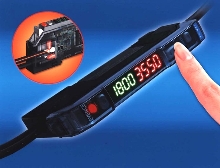 FS-V20 offers 50 micro second response time, detecting up to 10,000 targets per second. Four-element LED light source provides detection distances up to 1800 mm, plus stable operation in harsh environments. Six user selectable light power modes, viewable on display, offer 6 levels of detection distances. High resolution mode digitizes received light to 16 bits or 65,520 levels. FS-V20 supports 1-line wire connection system.
---
Original Press Release:

Keyence Introduces the Industry's Fastest Fiberoptic Sensor...and the First With Dual Digital Display


Keyence's new FS-V20 fiberoptic sensor amplifier sets new standards in sensor design and performance with its dual, two-color LED digital display, a light source 4 times more powerful than conventional sensors, and ultra-high speed, accuracy and stability.

A dual display feature simultaneously displays the light received value and the preset (threshold) value - enabling easy
adjustments during operation. Alternatively, other parameters
such as the peak and bottom values may be displayed.

The sensor's 4-element LED light source (see inset photo) is the most powerful of any fiberoptic sensor available. High power illumination provides longer detection distances (up to 1800 mm) plus stable operation in harsh environments, unaffected by temperature or other adverse conditions. Unlike three element designs, it provides longer service, free from light output deterioration. An S-APC (Selectable Auto Power Control) function maintains constant light output by regulating current input to the LED element. Six user selectable light power modes, viewable on the digital display, offer six levels of detection distances for a variety of applications and accuracy requirements. The FS-V10's high resolution mode digitizes the received light to 16 bits or 65,520 levels (patent pending) compared to 4095 levels (12 bits) of conventional sensors.

With an ultra-fast 50 micro second response time, the FS-V20 is the industry's fastest sensor and can detect up to 10,000 targets per second. Conventional sensors, with their 250 micro second response times can only detect 2000 targets per second.

Easy-to-use controls feature an Easy Access Mode (patent pending) that lets users view and change timer and power mode settings without having to scroll through the entire command menu and without affecting any other sensor settings. The FS-V20 also provides easy sensitivity settings with a fully automatic calibration mode by simply passing the target through the sensing area or with a maximum sensitivity mode that detects difficult targets without detecting the background.

The FS-V20 supports Keyence's proven and efficient 1-line wire connection system. Multiple amplifiers can be connected side-by-side via built-in connectors and all amplifiers can then be powered by a single wire. Additionally, the FS-V20 can be used with other Keyence sensors that support the 1-line system. Additional FS-V20 features include mutual interference prevention, and an auto display OFF power saving function.

The high-performance FS-V20 is backed by a complete line of Keyence fiber units including; ToughFlex, ULTRA long distance and area detection units, small beam spot, narrow beam, thin sleeve, semiconductor and liquid crystal detection units, liquid level, High-Flex, and heat resistant fiber units

Keyence Corp. of America, 50 Tice Boulevard, Woodcliff Lake, NJ 07677-7681 Phone: 888 KEY-ENCE (888-539-3623); Fax: (201)-930-1883 Web: www.keyence.com E-mail: keyence@keyence.com

For Editors Use

For further information, contact Jason Gellman, Marketing Specialist, Keyence Corp. of America, Phone: 201-930-0100, ext. 512 * Fax: 201-930-1883 * E-mail: jasong.hq@keyence.com

More from Optics & Photonics