Fiberglass Enclosure Recommended for Warm Climate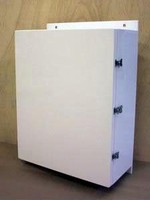 Signature Enclosures of Avondale, PA is the premier manufacturer of fiberglass enclosures to protect equipment in harsh industrial environments. Standard and custom enclosures are available to meet any customer's needs.

This fiberglass enclosure is the perfect solution for warm climates. The white color deflects the heat, rather than absorb it. Fiberglass enclosures in darker colors, though durable in extreme heat, do not perform as well in deflecting the higher temperatures caused by exposure to intense sunlight and hot climates. Many of our customers who have the need for fiberglass enclosures that will be installed in tropical or desert areas have opted for the white color. They report outstanding results in managing the excessive heat build-up.

Signature Enclosures provides complete customer satisfaction with engineering and design services available at no extra charge to the customer. Using the highest quality materials and in-house tooling ensures the durability and flexibility of design that will provide the return on investment that today's facilities demand.

For more information, contact 800-462-7126, or visit www.signature-enclosures.com for a complete list of all products.