Fiber Winder has alphanumeric display and interface.
Press Release Summary: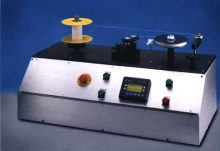 Machine transfers fiber to target spool or holder for making erbium doped fiber amplifiers or for re-spooling fiber, wire, tubing or similar materials at speeds to 120 fpm with programmable tension. It measures 35 x 18 x 12 in., weighs 65 lb, and handles spools up to 5 in. high and 12 in. dia. Pinch roller with one-way clutch simplifies process of changing target holders. Interface is used for entering process instructions and displaying information.
---
Original Press Release:
New Fiber Winder Features Programmable Operation and Adjustable Tension To Improve Productivity of a Difficult Process

San Jose, CA. - April, 2002 - ENGINEERING BY DESIGN, of San Jose, CA, is producing a new machine that transfers fiber from a large supply spool to any size target spool or holder. The primary uses are for making erbium doped fiber amplifiers (EDFA) and for re-spooling fiber, wire, tubing or similar materials.

"We applied the design concepts used in our production coil winders in a new configuration that is smaller and easier to use," states Dale Henson, P.E. and designer of the machine. "Adding a pinch roller with a one-way clutch simplifies the process of changing target holders."

An alphanumeric interface is used for entering process instructions and displaying material used, speed, pitch and target holder width. The large diameter guide rollers prevent damaging the fiber or kinking small tubing. The supply and target spool mandrels can be quickly changed to run a variety of processes. Adjustable wind tension applied through a dancer arm absorbs the discontinuous feed related to non-circular target holders. The innovative design can be reproduced in other configurations to fit a variety of manufacturing processes.

ENGINEERING BY DESIGN maintains design, production and sales offices in San Jose, CA. For more information contact Dale Henson, P.E. at 408.452.0256 or visit www.ebdesign.com

Engineering By Design is a registered trademark of Henson Tech, Inc. All other trademarks are property of their respective owner.

FIBER WINDER

Description:

This winder is used to wind fiber, tubing, wire or other material from a supply spool onto a target spool or guide.

Application:

Its primary use is in winding erbium doped fiber amplifiers (EDFA) but it can be used to remove material from a supply spool and deposit it onto anything that can be held by the take-up shaft. The winder starts and stops automatically to transfer the length set on the operator panel. The fiber or wire is guided back and forth across the target reel so it lays in a tightly packed manner.

Design Highlights:

The wind parameters (speed, length, pitch and target reel height) are set through the operator panel. An encoder on an over-center pinch roller tracks the wound length and prevents reverse flow by use of a one-way clutch. The wind tension is maintained by a spring-loaded dancer and is adjusted by rotating a mechanical knob. The pinch roller tracks the transferred length even if material is pulled off by-hand at the beginning or end of the wind. The material can be cut to load a new target reel and the one-way clutch in the pinch roller prevents loosing the free end. Target reel turns can also be tracked and controlled.

Benefit:

This winder combines multiple production features into one tabletop package that is easy to set up and adjust. Once the process parameters are set, a wind can be repeated by pushing the RUN button. Waste is minimized as the process is precisely controlled and all material usage is tracked.

SPECIFICATIONS:

- MATERIAL: Erbium doped Glass fiber, metal wire, plastic tubing or ?

- DIMENSIONS: 35" wide, 18" deep, 12" high (spools add up to 7").

- WEIGHT: 65 pounds.

- SPEED: Linear process speed up to 120 feet/min.

- TARGET SIZE: Up to 7.5" diameter & up to .5" high.

- SUPPLY SIZE: Spool diameters up to 5" high and 12" diameter.

- FIBER TENSION: Adjustable from 2 to 25 ounces manually.

- FIBER GUIDE: .5" travel with .0005" minimum step linked to the rotation of the target.

- CONTROL LENGTH: +/- .01 meter (1 cm) with setting up to 100 meters total. Readout to .01 meter. Can be made to use inches or other measure instead of meters.

- POWER: 120 VAC/1 P/15 service (6 amps full load).

- COMPLIANCE: Built to NFPA-79 and CE standards.

FEATURES:

- Lighted alphanumeric operator display with push-button data entry.

- Machine operation parameters set through the operator interface.

- Uses any size supply spool up to the maximum limit by changing the spool mandrel.

- Accepts any target reel, bobbin, etc. up to the maximum limit by changing the spindle.

- Supply spool and target reel turn CCW so the fiber flow path is close to the operator.

- Fiber is guided up/down as the target reel turns for a precise wrap.

- The fiber is pinched between spring-loaded rubber rollers to keep it from unraveling from the supply spool when cut.

- Fiber tension is adjusted by turning a knob on machine top plate. Position can be locked.

- Easy access to internal components through flip-top front panel and top plate.

- Convertible to a standup configuration (like an R-R tape recorder) to reduce table space.

- Revised configurations and specs can be accommodated per customer requirements.

- The operator can make all common setup adjustments.

- Full and complete operator manual includes parts list and electrical schematic.

More from Architectural & Civil Engineering Products