Storage, Shipping and Disposable Boxes
Fiber-Reinforced Polymer Wash Box comes with load capacity of 150lb.
Press Release Summary: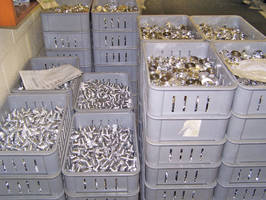 Designed to handle heavy payloads, Fiber-Reinforced Polymer Wash Box is made of composite material. With ability to sustain small-part washing system chemicals, unit offers continuous operation at temperatures of 350 ºF. Product can be cleaned in hot water using detergents. Box comes with bottom holes of 1/4 or 3/8 in. diameter and side slots of 2 ½ x 5/16 in. dimensions.
---
Original Press Release:
All Washed-Up FRP Wash Box Takes Stainless Steel to Cleaners
MFG Tray's FRP Metal Parts Wash-Box Delivers Versatility, Strength and Safety at 1/3 cost of Stainless Steel Wire Baskets.
MFG Tray, (Molded Fiber Glass Tray Company) has a line of versatile utility, high-strength fiber-reinforced polymer (FRP) composite metal parts wash-boxes whose composite material construction costs approximately one-third the cost of traditional stainless steel counterparts.
Designed to handle heavy payloads (150 lb. capacity), the stackable design wash-box's FRP composition is also engineered to withstand small-part washing system chemicals and provide continuous operation at temperatures to 350ºF.
They also serve as a labor-saving solution-from secondary process cleaning to work-in-process primary housing. By minimizing the "dumps" from high-speed conveyor-to-container, the use of the wash-box results in less labor and reduced part damage/scrap.
FRP FORMING PROCESS/PRODUCTION ADVANTAGES:
The standard proprietary corrosive formulation is engineered for advanced chemical resistance over oils, grease, degreasing operations, cutting oils, etc. and can be customized per client request to meet advanced corrosion specifications. Available in a variety of sizes, the wash-boxes are also easily cleaned in hot water or steam using standard detergents. The FRP composition provides dimensional stability and consistency for MFG Tray's in-house machining of the wash-box bottom holes (1/4" or 3/8" diameter) and elongated side slots (2 ½" x 5/16") – which are also available in a variety of sizes for custom orders.
Another key end-use advantage of the durable FRP wash-box construction vs. metal wash baskets is safety. The fact is, metal wash baskets frequently break and can leave dangerous wires poking out-which presents an employee safety hazard and could also damage sensitive parts.
Contacts:
Celena Davis
Marketing Manager
Molded Fiber Glass Tray Co., A Div. of Molded Fiber Glass Companies
6175 US Hwy. 6
Linesville, PA,16424
Phone: 814-683-4500
Email: cdavis@mfgtray.com
Contact This Company Download Spec Sheet
More from Health, Medical, & Dental Supplies and Equipment