Fiber-Reinforced Composite enhances wind turbine blade design.
Press Release Summary: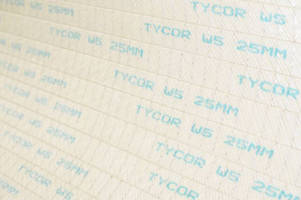 Available in 12-78 mm thicknesses, TYCOR® W5 fiber-reinforced composite core material meets design requirements of longer, heavier utility wind turbine blades. It is suited to vacuum infusion and provides 105 MPa min transverse shear modulus in all directions. Offering alternative to balsa with consistent infused density, minimal resin absorption, and optimal dimensional stability, material achieves balanced transverse shear stiffness suited for thin, highly-loaded shear webs and shells.
---
Original Press Release:

Webcore Introduces New Tycor W Product Especially Suited for Use in Longer, Heavier Utility Scale Wind Turbine Blades



MIAMISBURG, Ohio - - WebCore Technologies, LLC has introduced TYCOR® W5, the newest addition to its TYCOR W family of fiber-reinforced composite core material solutions for utility wind turbine blades. The new product expands the reinforcement architecture and manufacturing technology of the GL-certified TYCOR W line by adding higher shear properties balanced in the L- and T-directions. TYCOR W5 was developed to meet special design needs for current and future blade projects and is especially suited to the unique needs of longer, heavier blades.

TYCOR W5 offers high transverse shear strength for local areas of high stress. The new product provides high, balanced transverse shear stiffness suited for thin, highly-loaded shear webs and shells. "The addition of TYCOR W5 to our product line-up for wind turbine blades enables design engineers to optimize sandwich designs for both existing and new blades," says Doug Ventura, CEO for WebCore. "As wind turbines continue to increase in size and output, engineers are being tasked to keep costs and weight down while developing longer, higher-performance blades able to withstand difficult operating conditions. TYCOR W5 addresses these needs."

TYCOR W5 can be specified quickly as an alternative to balsa because the composite core's balanced shear modulus allows for a direct comparison with and substitution of the wood product. Yet TYCOR W5 offers blade manufacturers improved quality, consistent infused density, reduced resin absorption and better dimensional stability.

Suited to vacuum infusion, TYCOR W5 provides 105 MPa minimum transverse shear modulus in all directions, yet unlike balsa, offers reduced cost and weight. TYCOR W5 is available in sizes 12 to 78 mm thick. Sheet dimensions can be varied slightly to increase core kitting yield by as much as 10 percent compared to fixed-size cores.

Since 1991, WebCore Technologies has been developing, designing, testing and manufacturing TYCOR® fiber reinforced composite core and sandwich solutions for structurally demanding applications. These products represent an investment of more than $25 million in research and development. Headquartered in Miamisburg, Ohio, the ISO 9001 company also supports customers with an advanced manufacturing facility with the capability to deliver high volume production capacity. WebCore's expertise in shipping and logistics allows the manufacturer to consistently meet customers' on-time requirements. In 2007, WebCore used its proprietary platform technology to develop TYCOR W, a family of core solutions designed specifically for the unique requirements of utility scale wind blades. To help meet the industry's growing need for large blade production, WebCore provides TYCOR W in five standard grades giving designers and manufacturers the flexibility to optimize blade designs or use the material throughout the blade. TYCOR's fiber reinforced composite core products are also used by leading manufacturers for applications that include truck bodies, military shelters, pedestrian and vehicle bridges, railcar floors and cargo ship floors.

For more information visit WebCore at www.webcoreonline.com

More from Controls & Controllers