Fiber Optic Transmitters incorporate 850 nm GaAlAs LED.
Press Release Summary: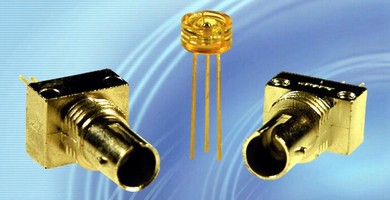 OPF670 Series LED transmitter family consists of OPF670 in TO-46 package, OPF672 in standard profile metal housing, and OPF673 in low profile metal housing, all designed to launch optical power into 50/125 µm or 62.5/125 µm diameter multimode fibers. Model OPF670 comes with plastic lens cap for active alignment into connector receptacle, and Models OPF672 and OPF673 are equipped with ST connector.
---
Original Press Release:

Optek Develops Fiber Optic LED Transmitters for Data Communications Equipment



LED transmitters combine high speed optical coupling with thermal stability...

MUNICH, Germany (November 14, 2006) - Providing design engineers with a trio of thermally stable optical coupling devices, TT electronics OPTEK Technology has developed a series of fiber optic LED transmitters for integration into data communications equipment. Designated the OPF670 Series, the LED transmitter family consists of the OPF670 in a TO-46 package, the OPF672 in a standard profile metal housing, and the OPF673 in a low profile metal housing.

According to Dave Birtalan, Vice President of OPTEK Technology's Components Business Unit, the high performance fiber optic LED transmitters were specifically designed to efficiently launch optical power into 50/125µm- or 62.5/125µm- diameter multimode fibers. "The devices in this series offer three power ranges with both upper and lower limits, allowing customers to choose the transmitter best suited for their specific application," said Birtalan. "The transmitters, which feature high coupling efficiency and thermal stability, are ideal for integration into data communications equipment."

All the devices in the OPF670 Series of fiber optic LED transmitters consist of an 850nm GaAlAs LED. Designed for active alignment into a connector receptacle, the OPF670 device is offered in a low cost TO-46 package with a plastic lens cap.
The OPF672 and OPF673 transmitters are packaged in standard and low profile metal housing, respectively, and are equipped with an ST connector.

Pricing for the OPF670 Series fiber optic LED transmitters ranges from $5.75 to $12.25 in quantities of 1,000. Lead time, if stock is not available, is from 6 to 8 weeks.

For more information about OPTEK's OPF670 Series transmitters, contact TT electronics' OPTEK Technology at 1645 Wallace Dr., Carrollton, TX, 75006; call 972-323-2200, or visit OPTEK on the web at www.optekinc.com. In Europe, contact JP Delaporte at info@optek-europe.com or call +33-1-30-31-5928. In Asia, contact T.H. Swee at thswee@optekasia.com or call +852-9190-4641.

OPTEK Technology is a leading manufacturer of standard and application-specific sensors using infrared, visible, magnetic and fiber optic technologies focused on applications in office machines, industrial equipment, encoders, automotive electronics, military and high-reliability applications, and medical diagnostic equipment. Headquartered in Carrollton, TX, the company is ISO/TS16949:2002 and BS EN ISO 9001:2000 certified, as well as ITAR registered. OPTEK Technology was acquired by TT electronics in December 2003.

TT electronics plc is a global electronics company manufacturing a broad range of advanced electronic components, assemblies and sensor modules for the automotive, industrial, telecommunication, computer and aerospace markets.

Keywords: TT electronics, OPTEK, OPF670, OPF672, OPF673, fiber optic, LED, transmitter

URL: www.optekinc.com

For more information, contact:
Dave Birtalan, Components Business Unit Vice President
OPTEK Technology
972-323-2200
dbirtalan@optekinc.com

More from Explosives, Armaments, and Weaponry