Fiber Optic Testers accelerate inspection/certification/diagnosis.
Press Release Summary: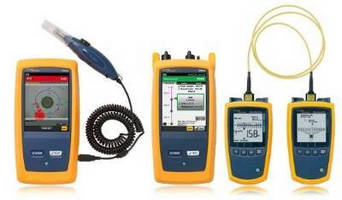 Delivering pass/fail certification per IEC 61300-3-35 standard in 2 sec or less, FI-7000 incorporates analysis software to highlight detected damage/defects. Singlemode MultiFiber Pro automatically detects singlemode (1310 or 1550 nm) and multimode (850 nm) wavelengths and accelerates accurate certification of MPO cabling via 20 sec test time. SmartLoop OTDR tests 2 separate fiber links in one test, eliminating need to travel to far end of connection to perform tests and reducing testing time.
---
Original Press Release:

Fluke Networks Introduces Trio of "Accelerator" Solutions to Speed Fiber Inspection, Certification, and Testing



FI-7000 FiberInspector Pro, Singlemode MultiFiber Pro, and SmartLoop OTDR for OptiFiber Pro helps data center, large enterprise, and datacom technicians complete fiber jobs in less than half the time



EVERETT, Wash. -- Fluke Networks today unveiled three new solutions for its family of cabling certification and testing solutions for the data communications and cabling market. Dubbed "Accelerator" solutions, the FI-7000 FiberInspector Pro, Singlemode MultiFiber Pro, and SmartLoop OTDR speed fiber test, inspection, and certification within data center, datacom installation, and large enterprise operations--in most cases, slashing the time to complete fiber jobs by more than 50 percent.



"Fiber is the future for data centers and larger enterprises. Organizations increasingly need more fiber cables to keep pace with technologies that demand greater processing power and bandwidth," said Jason Wilbur, vice president and general manager of the Datacom Cabling Installation business unit at Fluke Networks. "Time is money in these environments. The right cable testing solutions can reduce truck rolls, eliminate process steps and dramatically shorten the time required on the job site. We believe our new solutions will do exactly that for our customers."



FI-7000 FiberInspector Pro Offers Fast Assurance of Compliant End-Face Conditions

Instead of relying on subjective assessment of fiber end-faces, which takes more time and is less accurate, the FI-7000 FiberInspector Pro delivers pass/fail certification in two seconds or less. The FI-7000 inspects the fiber connector's end-face, analyzing the fiber core, cladding, adhesive layer, and contact surface for damage and defects before generating a pass/fail designation per the IEC 61300-3-35 standard.



The FI-7000 also incorporates advanced analysis software to highlight detected damage and defects, which makes contaminated areas easier to identify.



"A fiber network failure or latent problems can cost millions to a large data center or enterprise, to say nothing of the time and effort wasted on finger pointing and subjective, manual inspection," Wilbur continued. "The FI-7000 takes the guesswork out of fiber end-face testing while cutting inspection time to two seconds or less. What's more, it leverages our powerful Versiv Cabling Certification platform, increasing the overall value to our customers."



Existing Versiv FiberInspector owners can take advantage of the FI-7000's analysis capabilities with a simple firmware update.



Certifying MPO Cabling is Faster and Less Expensive with the Singlemode MultiFiber Pro

Until now, testing singlemode MPO cabling meant using testers not specifically designed for that purpose, which take more time to complete testing and could lead to errors due to polarity. The singlemode MultiFiber Pro is the first tester specifically designed for singlemode MPO cabling.  It cuts test time by up to 95 percent, from roughly 6.5 minutes to 20 seconds.



Singlemode MPO cabling is becoming a popular option in large datacenters and enterprise environments, due to its bandwidth and distance advantages. The Singlemode MultiFiber Pro automates the difficult parts of loss testing, making pass/fail certification of MPO fiber trunks and cassettes more efficient.



MultiFiber Pro automatically detects the most common singlemode (1310 nm or 1550 nm) and multimode (850 nm) wavelengths. The device's unique non-contact large area input port accepts both UPC and APC connectors.



The Singlemode MultiFiber Pro also offers other industry-leading capabilities in the areas of:



--  Loss measurement accuracy

--  Ease of setup for polarity or fiber count

--  Polarity-agnostic referencing

--  Cleanable test ports

--  Both singlemode and multimode compatibility, and

--  Auto-detection of 12/10/8 fiber MPO links with no setup or configuration required



Contractors and Installers can cut Testing Time in Half with SmartLoop OTDR

Bi-directional fiber testing has traditionally been a lengthy process, requiring traveling some distance to the far end of the fiber or taking equipment into hazardous or difficult-to-access areas. The SmartLoop OTDR is the industry's first product to test two separate fiber links in a single test. Not only does this eliminate the need to travel to the far end of the connection to perform tests, it also cuts network testing time by 50 percent.



The SmartLoop OTDR uses patent-pending algorithms to automatically separate fibers for individual pass/fail analysis and display, further enhancing the ease and speed of testing, especially in environments where the far end is difficult or dangerous to reach. With the SmartLoop OTDR, fiber optic cabling installers and contractors can reduce the time they spend onsite and avoid losing or damaging their test equipment.



SmartLoop OTDR is an addition to the OptiFiber Pro OTDR and is part of the free Versiv 3.0 firmware download.



To learn more about Fluke Networks Cable Certification testers, please visit FlukeNetworks.com.



About Fluke Networks

Fluke Networks is the world-leading provider of network test and monitoring solutions to speed the deployment and improve the performance of networks and applications. Leading enterprises and service providers trust Fluke Networks' products and expertise to help solve today's toughest issues and emerging challenges in WLAN security, mobility, unified communications and data centers. Based in Everett, Wash., the company distributes products in more than 50 countries. For more information, visit www.FlukeNetworks.com or call +1 (425) 446-4519.



For additional information, promotions and updates, follow Fluke Networks on Twitter @FlukeNetDCI, on Facebook, or on the LinkedIn Company or Group page.



CONTACT:

Robin Rees

Fluke Networks

(425) 446-5857

robin.rees@flukenetworks.com

or

Justin Hall

VOXUS PR for Fluke Networks

(253) 444-5442

jhall@voxuspr.com



More from Architectural & Civil Engineering Products