Sensors / Detectors / Transducers
Fiber Optic Sensor is available in 3 versions.
Press Release Summary: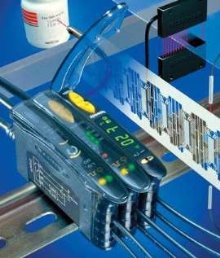 Offering 4-mode power and speed settings, D10 Expert(TM) with Numeric Display provides 2 discrete outputs in same sensor, or 1 discrete output and 4-20 mA current or 0-10 Vdc analog output in same sensor. D10 Expert(TM) with Bargraph Display features 8-segment display, while Discrete Output D10 model features 12-turn manual sensitivity adjustment and pulse rate LED for signal strength indication. Both offer bipolar discrete output with one current sourcing and one current sinking.
---
Original Press Release:

High-Performance Fiber Optic Sensing Family Available in a Single Standard Housing


Minneapolis, MN-June 30, 2005-Banner Engineering Corp. has introduced its D10 Series family of compact, DIN-rail-mountable fiber optic sensors. Available in three distinctly different models-the D10 Expert(TM) with Numeric Display; D10 Expert(TM) with Bargraph Display; and D10 Discrete Output-all D10 Series sensors have the same housing style and interface format, making them exceptionally easy to specify and efficient to install.

"The D10 Series fiber optic sensing family delivers on Banner's reputation for innovative and affordable sensing products," said Chris Dales, Banner's Fiber Optics product manager. "With a standard housing format and models starting at only $69.00, limitless configurations can be conveniently arranged in a single application."

Applications. With their small size and flexibility, fiber optics are ideal for sensing applications in the metal stamping, materials handling, pharmaceutical, printing and semiconductor industries. Example applications include the following:
o Guide the edge of plastic material as it moves across rollers.
o Detect the presence of an integrated circuit lead frame in PCB manufacturing.
o Count bolts dispensed from a feeder bowl in an assembly operation.
o Trigger a vision sensor in an inspection.
o Map the presence of wafers in a cassette for semiconductor manufacturing.
o Locate the perforations between bags on a web.
o Monitor the liquid level in a confined storage vessel.

Several attributes of the D10 Series family make them easy to install and use:
o Visible red or green sensing beams
o High-performance low-contrast sensing with automatic TEACH options or manual adjustment in Expert versions
o Inexpensive flexible plastic fibers that are easily cut to length during installation Choice of outputs: bipolar discrete, dual-discrete and analog/discrete

Specifications.
The D10 Expert(TM) with numeric display includes the capabilities of 4 sensors in a single unit with its unique 4-mode power and speed settings, which include high-speed, super high-speed, high-power and super high-power. Models have either two discrete outputs in the same sensor, or a discrete output and either a 4-20 mA current or a 0-10V dc analog output in the same sensor and a highly visible 4-digit TEACH/signal strength display. Discrete outputs are programmable for 50 microseconds, 200 microseconds, 1 millisecond and 2.5 milliseconds response times. The analog output on discrete/analog models has a 1 millisecond response time.

The D10 Expert(TM) with bargraph display features an easy-to-read 8-segment light bar display for TEACH and signal strength indications. It offers a bipolar discrete output with one current sourcing (PNP) and one current sinking (NPN). Response time in normal mode is 500 microseconds and 200 microseconds in high-speed mode.

The D10 discrete output model features a 12-turn manual sensitivity adjustment and pulse rate LED for signal strength indication. It also features a bipolar discrete output with one current sourcing (PNP) and one current sinking (NPN). Models are available with either a 200 or 500 microsecond response time.

Complete fiber optic sensing solutions. Banner is the source for the industry's broadest offering of fiber optic sensors for use with glass and plastic fibers. From general-purpose to specialty models, Banner has the expertise and the products to solve virtually any application.

About Banner. Banner Engineering is the world's leading manufacturer of vision sensors, photoelectric and ultrasonic sensors, fiber optic assemblies, electronic machine guarding systems and precision measurement systems.

For further information, contact Banner Engineering Corp., 9714 Tenth Avenue North, Minneapolis, MN 55441. PH: 888-373-6767 (Toll-free North America), or 001-763-544-3164 (International). FAX: 763-544-3213. Email: sensors@bannerengineering.com. E-commerce: buybanneronline.com Web: www.bannerengineering.com

More from Mechanical Components and Assemblies