Fiber Optic Safety System replaces interlock switches.
Press Release Summary: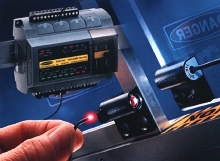 PICO-GUARD combines controller; various plug-in, snap-lock optical safety interlock switches; and plastic fiber optic cable to monitor doors, gates, and hard guards. Controller includes 4 separate optical channels, each able to control multiple optical safety interlock switches in same network. When system detects break in optical beam, it provides stop signal to machine control circuit to protect personnel. System meets ISO 13849-1 (EN954-1) Category 4 requirements.
---
Original Press Release:

Revolutionary New Fiber Optic Safety System Easily Replaces Safety Interlock Switches.



Minneapolis, MN July 12, 2002 Banner Engineering Corp. has announced PICO-GUARD, a new fiber optic safety system that directly replaces mechanical safety interlock switches to safeguard potentially dangerous machines. This unique combination of control-reliable, non-contacting photoelectric and fiber optic technologies provides a low-cost alternative to cumbersome and costly methods of machine safeguarding. This revolutionary new concept in safety systems is incredibly versatile, efficient and easy to install. It combines a controller and various plug-in, snap-lock PICO-GUARD optical safety interlock switches and plastic fiber optic cable to monitor doors, gates, and hard guards.

The PICO-GUARD system eliminates the need to run electrical wiring to the machine or hazardous area. Durable fiber optic cables can be easily routed to multiple machine guard points or hazardous areas, making conventional copper wires that carry electrical current to the guarded points no longer necessary.

Especially significant, is the incredible flexibility of the PICO-GUARD System thanks to it's advanced optical controller. This sleek, esthetically-designed controller includes four separate optical channels. Each of the four channels can control multiple optical safety interlock switches in the same optical network. Additional optical safety interlock switches can be instantly added to any channel simply by inserting them into the fiber optic loop for that channel. If desired, each channel can control a separate zone of a machine such as doors, entry gates, guards, etc.

Regardless of the optical safety interlock switches used, when the system detects a break in the optical beam (absence of its signal) such as a movement in a guard or door, or receives a safety stop request, it provides a stop signal to the machine control circuit to protect personnel from hazardous equipment. In addition to personnel protection, the system can protect equipment, critical tooling, or other critical materials in process. The receiver has two solid-state safety outputs to control 24V dc loads. Or, it can control forced-guided relays to provide isolated contacts.

Additional flexibility is provided with Banner's novel patent-pending Universal Safety Stop Interface (USSI). It allows two or more PICO-GUARD controllers to be connected to control a single machine when required. In addition, this unique interface permits other safety devices such as light curtains, E-Stop buttons and rope pulls to be connected to the controller. This makes it very easy to integrate many safety functions into one controller. Each controller has two of these very useful input connections - one latching output with manual reset and a trip output with automatic reset.

The PICO-GUARD is designed to meet ISO 13849-1 (EN954-1) Category 4 requirements. This guarding method has been designed so that a single switch point per door will meet Safety Category 4 applications, an industry first. This is possible due to its patent pending, diverse-redundant, self-checking photoelectric engine specifically designed to be used with plastic fiber optic cable. In addition, the hardware and firmware of the controller has been extensively tested via rigorous Failure Modes and Effects Analysis (FMEA) techniques to ensure that no single system component failure will create a fail to a dangerous condition.

PICO-GUARD optical safety interlock switches install instantly with a snap-lock connector, and are available in a variety of configurations including straight, right angle and a dual lens model with a passive opposed actuator. The PICO-GUARD controller is also designed for fast installation using plug-on wiring terminals.

Banner Engineering is the world's leading manufacturer of fiber optic assemblies, photoelectric and ultrasonic sensors, electronic machine guarding systems, and precision measurement systems. For further information, contact: Banner Engineering Corp., PO Box 9414, Minneapolis, MN 55440. Ph: 888-373-6767 (Toll-free, North America) or 001-763-544-3164 (International). Fax: 763-544-3213. email: sensors@bannerengineering.com, e-commerce: www.buybanneronline.com, Web:www.bannerengineering.com

More from Communication Systems & Equipment