Fiber Optic Connectors enable tool-free termination.
Press Release Summary: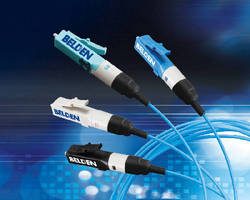 Featuring built-in activator tab that performs fiber splicing and crimping action in one motion, FiberExpress Brilliance Field-Installable Connectors enable contractors to terminate tight buffered fiber in just 3 steps. Units are available for 900 µm LC and are built to withstand temperatures from -40 to +75°C. Connectors can be used as backbone, horizontal, or fiber-to-the-desk components in any commercial building, government agency, or data center.
---
Original Press Release:

Belden Fiberexpress Brilliance Field-Installable Connectors Provide Unprecedneted Termination Simplicity and Speed



RICHMOND, IN - Belden (NYSE: BDC), a world leader in the development of signal transmission products for the enterprise, industrial, building management, broadcast, and security markets, is proud to unveil its FiberExpress Brilliance Field-Installable Connectors. The new fiber optic connectors are brilliant in design and implementation, enabling fast, fool-proof and easy termination of a fiber. In fact, terminations can typically be made in five (5) seconds, with no termination tools required - a performance unmatched by any other product in the marketplace today.

According to Richard Perron, Belden's Product Line Manager for FiberExpress Connectivity Networking Solutions: "We believe our new, tool-less FiberExpress Brilliance Connectors will be enthusiastically welcomed by the contractor community and the distributors who serve them. That's because the connector's patent-pending design not only eliminates the need for special tools, it also simplifies the installation steps typically associated with fiber terminations. In addition, the contractor is able to re-terminate the connector up to five (5) times to improve fiber termination yields and lower materials/installation costs." Mr. Perron adds that users can verify proper connectorization on-site using an external laser light-source, commonly a Visual Fault Locator (VFL), which can be clearly seen through the connector's window, offering immediate termination assurance.

Facilitate Fast, Easy Termination of Tight Buffered Fiber

The simple, yet sophisticated, design of the new FiberExpress Brilliance Connector enables contractors to terminate a tight buffered fiber in just three simple steps:

- Insert the prepared fiber into the connector

- Using the index finger, slide the connector's switch-like activator toward the fiber to be terminated to bring about the splice/crimp

- Slide the boot on the connector body - and it's done!

This fiber installation procedure is accomplished without using any specific or proprietary installation tools. The built-in activator tab performs the fiber splicing and crimping action in one simple motion, thus reducing the number of steps involved by 50% (as compared with most field-installable connectors).

Currently the Brilliance connector is available for 900 µm LC (OM1, OM2, OM3 and OS2). Throughout the year ST-Compatible, SC, APC and jacketed versions will also be introduced. Brilliance Field-Installable Connectors can be used for loose tube fiber installations, with the addition of a break-out kit, so installers can achieve the same reliability and improved fiber yields as with tight buffered terminations. The Brilliance connector is also a very reliable connector and is built to withstand a wider range of temperatures (-400 to +750 C) than traditional fiber connectors.

Belden's FiberExpress Solutions Meet Growing Market Demand

In today's information-intensive world, optical fiber networks are increasingly being used to support mission-critical data transmissions in financial and government institutions, large enterprises, and educational and healthcare facilities across the globe. Belden continues to expand its FiberExpress solutions to meet this growing demand with reliable, high-performance products that include a full range of cables, connectivity hardware, patch cords, cable assemblies, connectors and work area outlets - all of which comprise Belden's Total Enterprise Networks(TM) (TENs) end-to-end solutions approach.

Belden's new FiberExpress Brilliance Connectors fit perfectly into the integrated TENs paradigm. The connector can be used as a backbone, horizontal, or fiber-to-the-desk (FTTD) component in any commercial building, government agency or Data Center. It is ideal for use in the field connectorization of high-speed optical fiber networks such as 10G Ethernet, as well as being the platform for the more challenging 40G/100G networks of the future. Its use with Belden's FiberExpress Ultra Patch Panel - an ultra-high density, flexible and easy-to-install patch panel system - guarantees optimal performance and reliability, along with labor savings and ease of use.

Belden FiberExpress Brilliance Field-Installable Connectors will be highlighted at the 2010 BICSI Winter Conference & Exhibition, January 17-21 in Orlando, Florida - Booth 919.

For more information, request New Product Bulletin #308. Contact Belden at P.O. Box 1980, Richmond, Indiana 47375, 1.800.BELDEN.1. FAX: 765.983.5294. Or visit our Web site: www.belden.com .

About Belden

Belden is a customer focused company. We ensure that our customers' communications infrastructure issues are resolved and that they benefit from the best signal transmission performance for their investment. We deliver leading-edge copper and fiber cabling/connectivity systems, wireless technologies, and active switch devices. We employ customer-centric go-to-market strategies and we implement and retain world class manufacturing processes. Our partners span the globe, helping our customers design, install, operate and maintain their communications applications. And our experience is vast, including expertise in Enterprise, Industrial, Infrastructure, Transportation, Professional and Enterprise Audio and Video, and Government applications. To obtain additional information contact Investor Relations at 314-854-8054, or visit our website at www.belden.com.


Related