Fiber Optic Connector operates in harsh environments.
Press Release Summary: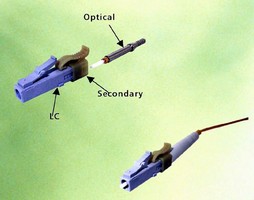 Meeting/exceeding Lucent 640-252-053 and Telcordia GR-326 requirements, Cannon PHD SuperLC fiber optic connector targets military/aerospace, telecom, and industrial data communications applications. Tunable optical cartridge functions as standalone optical element separate from connector housing, and accepts multi-mode or single-mode ferrules. Locking mechanism prevents thermal stress of latch, while crimp termination of cable to rear body ensures quick field repair.
---
Original Press Release:

ITT's LC Fiber Optic Connector Meets Lucent & Telcordia Requirements



LC connector provides increased optical stability at high temperatures, superior mechanical durability...

SANTA ANA, Calif. - March 17, 2008 - ITT Interconnect Solutions, a leading global manufacturer and supplier of connectors, interconnects, and cable assemblies, has developed a fiber optic connector for operation in harsh environments. The Cannon PHD SuperLC connector features a small form factor and maintains the same high optical performance characteristics of a standard LC product while operating in severe environments.

"Until now, the LC configuration commonly used to connect fiber optic devices was not able to function reliably in high temperature or high vibration environments," said Keith Teichmann, director of marketing for ITT Interconnect Solutions. "With superior mechanical durability, including a thermal plastic housing and a locking feature to prevent mechanical release, the connector is capable of withstanding high temperatures and thermal cycling, along with elevated levels of shock and vibration."

The Cannon PHD SuperLC connector meets or exceeds Lucent 640-252-053 and Telcordia GR-326 requirements. The connector is ideal for military/aerospace, telecom service, and industrial data communications applications.

The SuperLC connector features a tunable optical cartridge that functions as a standalone optical element separate from the connector housing and accepts multi-mode or single-mode ferrules. The locking mechanism also prevents thermal stress of the latch at high temperatures. Crimp termination of the cable to the rear body ensures ease-of-use and quick field repair.

Typical pricing for the Cannon PHD Super LC connector ranges from $20 to $25 depending on quantity. Lead time is from 4 to 6 weeks.

About ITT Interconnect Solutions

ITT Interconnect Solutions is an international manufacturer and supplier of connectors including circular, rectangular, fiber optic, RF, power and high voltage, audio, PCMCIA, Compact Flash Card, enclosures, cable assemblies, and application specific custom solutions. The Interconnect Solutions portfolio includes the brands Cannon, VEAM, and BIW. For more information on ITT Interconnect Solutions and an archive of its press releases, please visit www.ittcannon.com.

About ITT

ITT Corporation supplies advanced technology products and services in several growth markets. ITT is a global leader in the transport, treatment and control of water, wastewater and other fluids.

The company plays a vital role in international security through its defense communications and electronics products; space surveillance and intelligence systems; and advanced engineering and related services. It also serves the growing leisure marine and electronic components markets with a wide range of products. Headquartered in White Plains, NY, the company generated $7.8 billion in 2006 sales.

Leads Contact:
Nas Hashemian
ITT Interconnect Solutions
666 East Dyer Road
Santa Ana, CA 92705
Tel.: +714-628-8370
Fax: +714-628-2249
Email: nas.hashemian@itt.com

Web: www.ittcannon.com

Keywords: ITT, Interconnect Solutions, Cannon, PHD SuperLC, fiber optic, connector

More from Adhesives & Sealants