Fiber Optic Cables meet limited combustible standards.
Press Release Summary: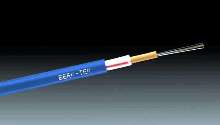 UL-Listed Adventum(TM) LC Cables feature dry loose tube construction and utilize GIGAlite(TM) multimode and singlemode optical fibers. They help minimize potential fuel load and produce up to 20 times less smoke than plenum-rated cables. Carrying fire hazard classification listing of FHC 25/50, cables meet NFPA 255 Standard Test Method of Surface Burning Characteristics of Building Materials, and NFPA 259 Standard Test Method for Potential Heat of Building Materials.
---
Original Press Release:

Berk-Tek Introduces Adventum(TM) LC - World's First UL-Listed Limited Combustible Fiber Optic Cables


New Holland, PA - January 17, 2005 - Copper and fiber optic cabling technology and solutions leader Berk-Tek, A Nexans Company, announces the Underwriters' Laboratory (UL) listing of Adventum(TM) LC - the world's first limited combustible fiber optic cable.

The limited combustible Adventum LC cables will carry the fire hazard classification listing of FHC 25/50 and meet the National Fire Protection Association (NFPA) 255 Standard Test Method of Surface Burning Characteristics of Building Materials, and the NFPA 259 Standard Test Method for Potential Heat of Building Materials.

Because limited combustible (LC) rated cables help to minimize the potential fuel load and produce up to 20 times less smoke than comparable plenum rated cables they offer enhanced life-safety and electronic asset protection for facilities such as hospitals and healthcare facilities, as well as mission critical data centers and storage area networks.

"Smoke is the primary issue for both time-to-exit concerns and potential electronic equipment damage," said Beni Blell, Fiber Optic Business Manager at Berk-Tek. "The key feature of the Adventum LC design is its superior fire safety performance over the current optical fiber non-conductive plenum (OFNP) rating."

Berk-Tek is the first optical fiber cable manufacturer to produce an optical fiber cable that is safety listed as meeting the stringent limited combustible requirements.

Adventum LC also provides many of the same benefits provided Berk-Tek's original Adventum(TM) series cables:
o Totally dry loose tube construction replaces gel-type filling compounds in the cable core or buffer tube
o A diameter up to 35 percent smaller than tight-buffered cable of equal fiber counts
o Superior bandwidth using GIGAliteTM multimode and singlemode optical fibers
o Factory direct pre-terminated assembly available guarantees full compatibility with all current field terminable connector technologies

Berk-Tek's Adventum LC cables are the latest addition to its comprehensive line of LC cables including Category 3, Hyper Plus 5e,(Category 5e) LANmark-350 (Premium Category 5e), LANmark-1000 (Category 6), and LANmark-2000 (enhanced Category 6) UTP copper cables.

About Berk-Tek, A Nexans Company
For more than 40 years, Berk-Tek has been a leading manufacturer of more than 100 different network copper and fiber optic cable products. The company has led in the development of high-performance and enhanced fiber optic and UTP cables designed to transport high-speed data and voice transmissions. Berk-Tek has major manufacturing facilities at New Holland, PA, Fuquay-Varina, NC and Elm City, NC. For more information, visit www.berktek.com.

About Nexans
Nexans, a worldwide leader in the cable industry, brings an extensive range of advanced copper and optical fiber cable solutions to the infrastructure, industry and building markets. Nexans cables and cabling systems are used in several areas of everyday life, such as: telecommunications, energy networks, aeronautics and railways, as well as in aerospace, building, petrochemical, automobile and medical applications. With a manufacturing presence in 29 countries and commercial activities in 65 countries, Nexans employs 17,000 people globally, and had sales in US$ 4 billion in 2003. Nexans is listed on the Paris stock exchange as NEX. For more information, visit www.nexans.com

Contact: Lauren DuPont, Nexans North America Communications Specialist, Ph: (717) 351-9398, Email: lauren.dupont@nexans.com

More from Fasteners & Hardware