Fiber Laser Cutting Machines offer intelligent setup.
Press Release Summary: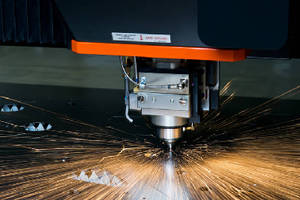 Available in 5 x 10 ft and 6 x 12 ft models, respectively, OPTIPLEX 3015 and 4020 Fiber include Zeta 9 technology, which provides 6 intelligent setup functions, including auto nozzle changing, auto focus positioning, focus detection, auto profiler calibration, auto nozzle cleaning, and beam diameter control. Intelligent monitoring functions include pierce, plasma, and burn detection. With 15 in. touchscreen, Mazak PreView 3 CNC automatically determines required processing conditions for material.
---
Original Press Release:

Mazak Optonics Corporation Releases New Optiplex Fiber with Zeta 9



Elgin, Illinois -- Mazak Optonics Corporation has released a new OPTIPLEX Fiber laser- cutting series with exclusive Zeta 9 technology. Zeta 9 is a series of six intelligent setup functions and three intelligent monitoring functions designed to significantly reduce operator dependency and improve throughput and cut quality. Although many of these functions have been available on CO2 series machines, their availability on fiber laser-cutting machines is a major breakthrough for fiber processing effectiveness.



Zeta 9's six intelligent set up functions include auto nozzle changing to optimize assist gas usage and maximize job feedrate, auto focus positioning to maximize part quality, focus detection to automatically calibrate reference positions, auto profiler calibration to keep a stable distance between material and the nozzle while cutting, auto nozzle cleaning to reduce operator intervention, and beam diameter control to cut a wide range of materials by changing the shape of the laser beam. Zeta 9 also offers intelligent monitoring functions including pierce detection to minimize pierce times, plasma detection to monitor and stabilize stainless steel cutting, and burn detection to monitor cutting and notify the operator of poor cutting conditions for mild steel.



Available in both a 3015 (5' by 10') and 4020 (6' by 12') version, the OPTIPLEX Fiber with Zeta 9 can significantly increase the productivity of thin to thick worksheet cutting, compared to conventional laser processing machines. It is also designed to process reflective materials at greater speeds than its CO2 counterpart and can significantly reduce operating costs for applicable material types and thicknesses.



The OPTIPLEX Fiber with Zeta 9 uses the new Mazak PreView 3 CNC Control which features a user-friendly 15" touch-screen control and automatically determines the required processing conditions for the material, prior to cutting.



About Mazak Optonics

Mazak Optonics Corporation is a major supplier of laser-cutting and automation systems, offering 50 laser models and leading the industry in the implementation of emerging laser technologies. The company's 50,000 sq. ft. North American Headquarters are located in Elgin, Illinois, and feature a 30,000 sq. ft. laser technology center housing up to 18 machines for demonstrations and training. Mazak Optonics is part of Yamazaki Mazak Corporation (Oguchi, Japan), the global leader for the manufacture of machine tools and systems for the precision machining of metal parts, including CNC turning centers, horizontal and vertical machining centers, Multi-Tasking machining centers, turnkey cells and software solutions. The North American Headquarters for Yamazaki Mazak are located in Florence, Kentucky. For more information on Mazak Optonics' products and solutions, visit www.mazakoptonics.com,  email sales@mazaklaser.com or call 847.252.4500.

More from Material Handling & Storage