Fiber Laser combines efficient and dynamic laser cutting.
Press Release Summary: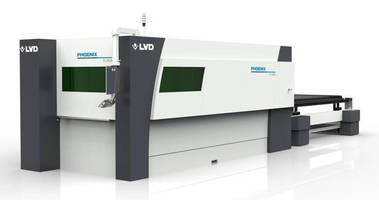 Powered by solid-state doped fiber laser source, Phoenix FL has 19 in. touchscreen control and modular automation options and processes various sheet thicknesses and types. Lightweight, high rigidity beam delivery system allows dynamic processing, and welded steel frame construction minimizes deformation caused by acceleration. Integrated automatic shuttle table system, which allows one table to be loaded while machine is cutting on other, maximizes uptime. Table change time is 30 sec.
---
Original Press Release:

LVD Strippit Launches Phoenix Fiber Laser



Akron NY, USA – The Phoenix FL completes LVD Strippit's fiber laser line-up. The Electra was introduced in 2013 as a high efficiency, ultrafast fiber laser system and the Lynx earlier this year as an ideal entry into the world of fiber laser cutting. The new fiber laser system unites cost efficient and dynamic laser cutting together with LVD Strippit's laser automation possibilities.



QUALITY COMES FIRST

The Phoenix offers the perfect balance between performance and price. The compact, modern machine design includes a welded steel frame construction that minimizes deformation caused by high acceleration thus improving overall machine accuracy. Powered by a high efficiency solid-state doped fiber laser source, the fiber laser provides fast, accurate processing of various sheet thicknesses and types. The Phoenix FL features a lightweight, high rigidity beam delivery system to allow for highly dynamic processing.



The Phoenix maximizes uptime with an integrated automatic shuttle table system that allows one table to be loaded while the machine is cutting on the other table. Table change time is only 30 seconds.



TOUCH SCREEN CONTROL & INTERFACE

LVD's touch screen control and user interface, TOUCH-L, make the Phoenix easy to use and operate. TOUCH-L employs a 19" touch screen and icon driven user interface to efficiently and effortlessly guide the user through all necessary man-machine interactions.



TOUCH-L also incorporates a part programming and nesting module allowing users to import drawings directly into the control, applying cutting technology and nesting sheets at the machine.



EFFICIENT OPERATION

The Phoenix FL features the latest in fiber laser source technology with a wall plug efficiency of up to 30%. The virtually maintenance-free fiber laser resonator utilizes the latest fiber laser technology for reliable trouble-free performance.



ADVANCED AUTOMATION OPTIONS

Modular automation options further increase the productivity and throughput of the Phoenix FL. The laser cutting system is offered with the option of a Compact Tower (CT-L) and the Flexible Automation for Lasers (FA-L) developed by LVD.



CT-L is a compact material warehousing tower with an integrated load / unload system and a shelving unit for storage of raw material and finished parts.



FA-L is a system for interchanging finished and unfinished sheets on the table within 40 seconds and includes thickness control and automatic sheet separators.



PHOENIX FL

The PHOENIX FL is LVD's answer to dynamic and cost efficient laser cutting.



Product Manager Lasers

Stefan Colle

Strippit, Inc.

Tel. + 1 716 542-4511

scolle@strippit.com



ABOUT LVD STRIPPIT

The LVD Group is a leading manufacturer of a comprehensive range of sheet metalworking machines and software solutions. The laser cutting systems, punching machines, press brakes, guillotine shears and automation systems are integrated with the fully in-house developed CADMAN®-software. The company has production facilities in Belgium, France, the US, Slovakia and China and sales and service offices in more than 45 countries worldwide.



For more information please contact:

Strippit, Inc.

12975 Clarence Center Rd.

Akron, NY 14001, USA

Tel. + 1 716 542-4511

Toll-free in the US: 1-800-828-1527

e-mail: info@strippit.com 

website www.lvdgroup.com