Fiber Guide System provides fiber management at PCB level.
Press Release Summary: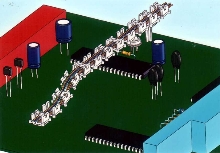 Designed for use with 250 and 900 micron fiber, Optical Fiber Flexible Guide (OFFG/OFFGSP) System enables fiber to snake around and over components on PCB without risk of snagging or kinking. Lugs along top of guide secure fiber into guide, and support posts mount guide onto or above PCB. Support posts are offered in flat and raised styles and are available in 3 stand-off heights. System is molded in flame retardant, UL94 VO Nylon 6/6.
---
Original Press Release:
Richco, Inc. Releases the OFFG/OFFGSP Flexible Fiber Guide System

Richco Inc. is pleased to announce our new Optical Fiber Flexible Guide System. The fully modular system lends complete fiber management and protection at P.C.B. level. The flexibility of the guide allows it to "snake" around and over components on a P.C.B. The system was designed for use with 250 and 900 micron fiber. Fiber can enter and exit the OFFG guide without the risk of snagging or kinking. Lugs along the top of the guide secure the fiber into the guide. The OFFGSP support posts mount the guide onto or above the P.C.B. The support posts are offered in 2 styles: Flat and Raised; the raised style is available in 3 different stand-off heights. The system is molded in flame retardant, UL94 VO Nylon 6/6 and all parts are sold separately. To review our other fiber management products, please refer to our website at www.richco-inc.com.

For more information on the OFFG/OFFGSP System, please contact Cheryl Cummins at 1-773-290-5610.

Richco Inc. is a global manufacturer of plastic components. Since their inception in 1954 they have specialized in supplying quality circuit board hardware, wire routing products, cable ties, clips and clamps, as well as fiber optic and telecommunication accessories, and have expertise in the molding and extrusion of plastic. Richco currently operates eighteen facilities worldwide.

Richco, Inc. Chicago, IL Ph: 773-539-4060 Fax: 773-539-6770 www.richco-inc.com.

Specialists in manufacturing quality plastic products
More from Electrical Equipment & Systems