Fiber Distribution Panel boosts datacenter/office speed, efficacy.
Press Release Summary: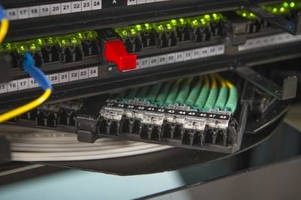 QRapid incorporates Quareo physical layer management technology comprising connection point identification (CPID) for real-time visibility to network add-ons, moves, and changes. Used in central office fiber deployments, this 1 RU, 48-port or 3 RU, 144-port, rack-mountable panel features RapidReel fiber cable spool and electronics. Functionality enables user to know, in real-time, whether each front port of panel is connected and to what other equipment and port it is connected.
---
Original Press Release:
TE Connectivity Debuts QRapid Fiber Distribution Panel for Data Centers and Central Offices
New Solution Incorporates Rapid Fiber Panel to Speed Deployments, Reduce Costs

MINNEAPOLIS -- TE Connectivity (TE), a world leader in connectivity, today announced the QRapid fiber panel, a new version of its Rapid Fiber panel that incorporates Quareo physical layer management technology comprising connection point identification (CPID) for real-time visibility to network add-ons, moves and changes. This new panel improves speed and efficiency in central office fiber deployments while slashing deployment costs.

The QRapid fiber panel is a 1RU 48-port or 3RU 144-port rack-mountable fiber distribution panel that incorporates TE's RapidReel fiber cable spool and contains electronics that enable it to function as part of TE's Quareo physical layer management system. The functionality of the QRapid fiber panel provides a user with the ability to know in real time whether each front port of the panel is connected, and to what other equipment and port it is connected.

"The Rapid Fiber panel technology incorporated in the QRapid fiber panel eliminates the need for site visits to measure exact lengths, removing the costly time it takes for custom ordering of fiber distribution cables," explained Pat Thompson, director of global product management at TE. "Because the panel stores fiber on a spool, technicians can simply pull out the amount of fiber needed to make a connection and the excess fiber remains stored in the panel."

The QRapid fiber panel delivers several key benefits:

--  Physical Layer Management: Expands options for central office and data center network architects who want to gain an accurate, real-time view of the physical network.
--  Cost Savings: RapidReel cable spools reduce upfront deployment costs by simplifying site survey inspections, reducing labor hours and streamlining cable deployment.
--  Faster Deployment: The pre-connectorized, plug-and-play solution eliminates splice labor requirements and speeds network construction.
--  Easy Access: The panel's technician-friendly, front-facing interface ensures trouble-free maintenance and fast service turn-ups.

ABOUT TE CONNECTIVITY
TE Connectivity (NYSE: TEL) is a $14 billion global technology leader. Our connectivity and sensor solutions are essential in today's increasingly connected world. We collaborate with engineers to transform their concepts into creations - redefining what's possible using intelligent, efficient and high-performing TE products and solutions proven in harsh environments. Our 80,000 people, including 7,500 design engineers, partner with customers in over 150 countries across a wide range of industries. We believe

EVERY CONNECTION COUNTS - www.TE.com.

TE Connectivity, TE connectivity (logo), TE (logo), EVERY CONNECTION COUNTS, Quareo, RapidReel and Rapid Fiber are trademarks.

All other logos, products and/ or company names referred to herein might be trademarks of their respective owners.

© 2015 TE Connectivity Ltd. family of companies. All Rights Reserved.

Contacts:
Media Relations:
Colleen Murphy-Gomez
TE Connectivity
952-917-0279
colleen.murphygomez@te.com
More from Adhesives & Sealants