Fiber Array Packages feature small beam diameter.
Press Release Summary: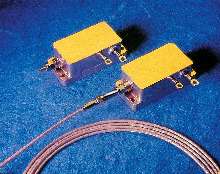 FAP(TM) 400 Series consists of 8 W, 808 nm FAP and 8 W, 980 nm FAP. Both deliver light via 400 µm diameter multimode fiber bundle, and have typical operating current of 12 A. They operate at less than 2 V and feature typical numerical aperture of 0.14. Units include aiming beam fiber within fiber bundle. They are suitable for medical and direct-diode material processing applications.
---
Original Press Release:

Coherent Adds New Fiber Array Package (FAP(TM)) Products to Diode Laser Portfolio


New FAP 400 Series Products Feature Smaller Diameter Core

Santa Clara, Calif., February 12, 2003 - Coherent, Inc. (NASDAQ: COHR) introduces the FAP(TM) 400 Series Fiber Array Package (FAP) products, the latest addition to its fiber-coupled diode laser portfolio. Ideal for a variety of medical and direct-diode materials processing applications, the FAP 400 products feature a smaller diameter beam and outstanding beam quality.

The FAP 400 Series consists of an 8W 808 nm FAP and an 8W 980 nm FAP. Both products deliver light via a 400-µm-diameter multimode fiber bundle, and have a typical operating current of 12A. All FAP devices operate at < 2V, and feature a typical numerical aperture of 0.14 (90% encircled energy). The FAP 400 products also include an aiming beam fiber within the fiber bundle. All of Coherent's FAP products have the same compact footprint-70 mm x 31.8 mm x 25.8 mm, making it easy for users to interchange components of different powers and core sizes.

The launch of the FAP 400 Series complements the company's recent introduction of the FAP 600 Series, and its already successful FAP 800 Series. Coherent now offers an extensive line of FAP products that deliver light via 800 µm, 600 µm, or 400 µm fiber bundles.

"The extension of our FAP product family to smaller diameter fiber core and different powers will provide system developers more options when designing in a light, pump or thermal source," said Sheila Santwani, product manager for Coherent. "The FAP 400 serves the needs of our customers that require a little less power and much smaller diameter beam."

Coherent diode lasers are MBE-grown and feature an aluminum-free active area design, which nearly eliminates dark-line and spot defects, sudden failures and gradual degradation typically found in MOCVD-grown AlGaAs diode lasers. And since there is no aluminum in the active region of the device, there is no oxidation in the facets-the leading failure mechanism with AlGaAs diode lasers.

Founded in 1966, Coherent, Inc. is a Standard & Poor's SmallCap 600 company and a world leader in providing photonics-based solutions to commercial and scientific markets. Please direct any questions to Sheila Santwani, product manager for Coherent, at (408) 764-4094. For more information about Coherent, Inc., including product and financial updates, visit the Web site at www.CoherentInc.com

More from Electronic Components & Devices